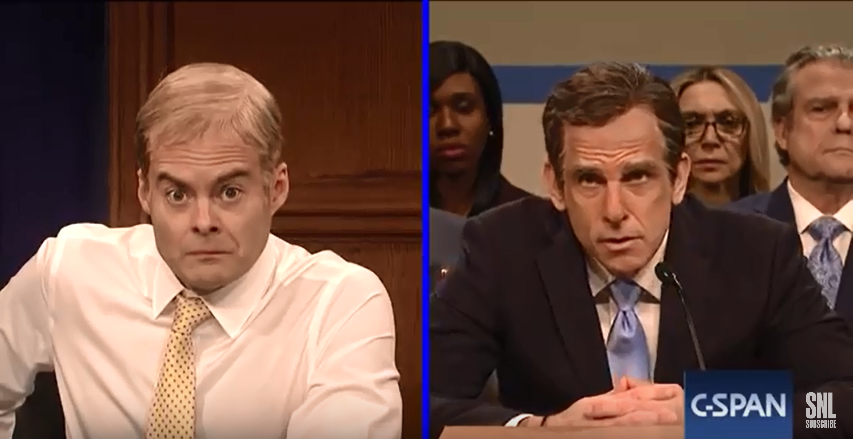 SNL YouTube screenshot
Ben Stiller played Michael Cohen on
SNL and name dropped the Republican
Party as another criminal organization
he has worked for
by Nathan'ette Burdine: March 3, 2019
Tweet
Actor Ben Stiller is a funny man sometimes. Y'all know, like those times when he played Greg Focker in Meet the Parents and Meet the Fockers .

Last night, Stiller played another focker whose fock ups have left him down and out. And the focker who Ben Stiller played is none other than Donald Trump's former lawyer/fixer Michael Cohen.

Stiller as Cohen admitted that he lied. However, he doesn't want y'all to hold that against him because he did, after all, work for folks like Donald Trump and the Republican Party.

Bill Hader (Jim Jordan) said to Bill Stiller (Michael Cohen), "You
been working in some of the sleaziest circles in America for years.
What other criminals and low lives have you worked for?"

"I was the deputy finance chairman for the Republican Party,"
Stiller as Cohen responded back.

A person who isn't a liar can't work for Trump or the Republican Party. Stiller as Cohen knows this. That's why he started off by apologizing about the lies he told, which have gotten him three years in the federal pen.

"The first time I testified was also under oath. But this time, I like really mean it," Stiller as Cohen said.

Stiller as Cohen "meant it" so to the point that he gave the House Oversight Committee the $130,000 Looney Toon check that was mailed to Stormy Daniels to keep her quiet about her alleged romp with Donald Trump, and he also gave the committee the "I'll Fucking Kill You" note he mailed to Donald Trump's high school as a warning about what will happen if they release the Donald's grades.

Here's what Stiller as Cohen told the committee about all of that exactly:

"He is also a con man and a cheat. And to prove it, I'm providing
the committee today with several documents. This is a check Mr.
Trump wrote me as reimbursement for hush money I paid to
Stormy Daniels. And this is a copy of the check I wrote to Ms.
Daniels. I'm also including a copy of the threatening letter I sent
to Mr. Trump's high school, warning them not to release his SAT
scores."

As y'all can see, all of Cohen's fock ups were due to the fact that he had a Khloe Kardashian problem; which is hanging on to a good for nothing no count of a man.

And the only reason why Michael Cohen cut himself off from his good for nothing no count of a man by the name of Donald Trump is because Michael Cohen got caught doing wrong for his good for nothing no count of a man.

Just take these words from Stiller as Cohen as an example of why no one should get in bed with a good for nothing, lying, cheating, thieving man:

"In conclusion, I know that I was wrong. And I know it because I
got caught. For too many years, I was loyal to a man when I
should not have been. Now I know how Khloe Kardashian feels.
But now I'm all out of faith. This is how I feel. I'm cold and I'm a
shame and lying naked on the floor. Illusion never changed into
something real I'm wide awake and I can see the perfect sky is
torn."

Bless him, he's "awake" now.
comments powered by

Disqus