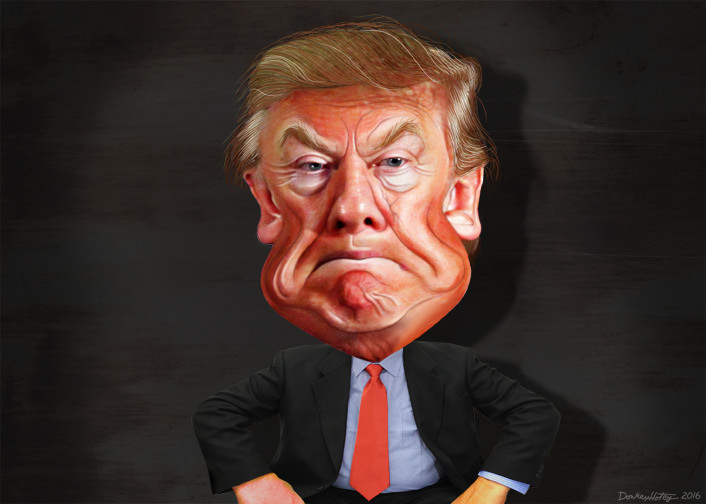 Donald Trump Caricature DonkeyHotey's photo CC BY 2.0
Donald Trump uses Mr. Magoo
joke to call Jeff Sessions old
by Nathan'ette Burdine: March 1, 2018
Tweet
Donald John Trump Sr., ends up cracking on himself while trying to crack on Jefferson Beauregard Sessions III about being too old to do.
According to the folks over at
The Washington Post
, Donald John likes calling Jefferson Beauregard Sessions III "Mr. Magoo."
Mr. Magoo is a cartoon character who's a wealthy old man known for his bumbling ways and good luck.
Trump pays no never mind to the wealth and good luck part because those descriptions do not accurately describe how Trump sees ol' Beauregard there which is like an "old, bumbling" fool who doesn't know how to properly play the role of consigliere to the 45th president of the United States.
It's no secret that ever since ol' Beauregard there decided to let U.S. Deputy Attorney General Rod Rosenstein be over the Russia investigation that Donald John has been madder than a coon hound hot on a hog's ass at ol' Beauregard there.
Rod Rosenstein came in and named former FBI Director Robert Mueller, who is also former FBI Director James Comey's mentor, as special counsel in the Russian investigation.
Fast forward nine months later and Mueller's investigation has netted three flips (former National Security Adviser Michael Flynn, former Trump campaign staffer George Papadopoulos, and former Trump campaign manager Paul Manafort's associate, Rick Gates) and several indictments.
Donald John looks at all of this and most likely says to himself that the walls wouldn't be closing in on him if his consigliere did his job and stayed over the investigation.
But see, what Donald John fails to realize is that ol' Beauregard there is not the 71-year-old senior citizen who is to blame for Senior Citizen Trump's problems. No, no, no. All of that falls on 71-year-old Donald John's head. Donald John is the one who decided to run for president.
And the way things are a looking, Donald John and not ol' Beauregard there, is the one who decided to lay down with those Russian bots so he could get that extra push he needed in order to become number 45.
So yeah…Donald John is the 71-year-old wealthy, bumbling old man who it is increasingly looking like got his good luck due to his Russian connections that helped him to stumble upon a presidency that he soon may find himself out of.
comments powered by

Disqus