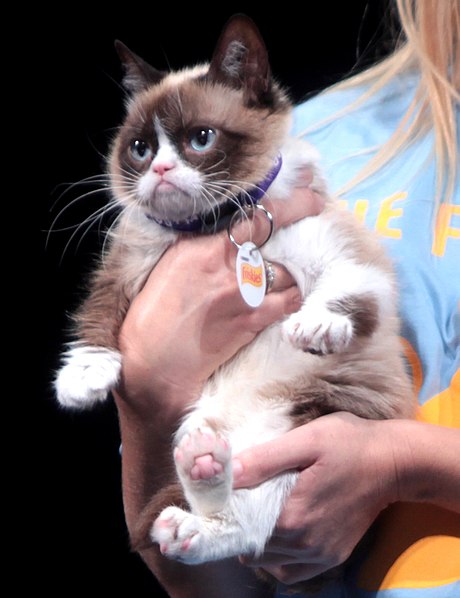 Grumpy Cat Gage Skidmore's photo
Grumpy Cat has gone on to one of
those many mansions in the sky
by Nathan'ette Burdine: May 20, 2019
Tweet
Grumpy Cat has gone on Home to one of those many mansions in the sky. Last Friday, Grumpy Cat's human mom, Tabatha Bundesen, tweeted that Grumpy Cat passed away on Tuesday morning after succumbing to problems due to a urinary tract infection.
Some days are grumpier than others... pic.twitter.com/ws209VWl97

— Grumpy Cat (@RealGrumpyCat) May 17, 2019
The news, no doubt, was unexpected and very sad to hear. Grumpy Cat, whose real name is Tardar Sauce, has been an important part of our lives ever since 2012 after she burst on the scene with her first meme.
From there, Grumpy Cat went on to appear on the
Today Show
,
Good Morning America
, and alongside her feline pal, Lil Bub, in the documentary
Lil Bub and Friendz
.
Grumpy Cat also has several books which include her last book that was published on her seventh birthday, April 4, 2019, by Penguin Random House Publishers.
Several people, along with Grumpy Cat's feline pal's Lil Bub and Simon's Cat, have tweeted out their condolences to Grumpy Cat's family.
Dearest @RealGrumpyCat, you were the yin to my yang, and a truly majestic feline. I am eternally grateful for the years I was able to share with you on Earth, and look forward to the light years I'll get to spend with you in space. #RIPGrumpyCat pic.twitter.com/cyVDvLC3iN

— Lil BUB (@IAMLILBUB) May 17, 2019
Goodbye @RealGrumpyCat 😢
You were a kindred spirit and you will be missed... pic.twitter.com/bTXpcHVpH8

— Simon's Cat (@SimonsCat) May 17, 2019
I just found out that Grumpy Cat passed away a few days ago :'( this brings me endless sadness. What a good girl she was <3 making us all smile with her super grumps </3 She will be very missed by ALL the internet <3 pic.twitter.com/C2yuSBBV6b

— SkyBluFox (@SkyBluFoxInsta) May 17, 2019
We'll Miss Grumpy Cat. She was an icon to many and the biggest Mood on the daily. RIP a legend. Have my grump Tiger. #TweetAGrumpyFaceForGrumpy pic.twitter.com/npl3BTtsEa

— KibakiKyarako (@KibakiKyarako) May 17, 2019
The team behind Purrfect Date would like to pay our respects to one of, if not the most, iconic cats on the internet, who passed over the rainbow bridge today.
RIP Grumpy Cat (AKA Tardar Sauce), you made so many people smile, and your resting grump face will be truly missed. pic.twitter.com/jVm9sUwUGM

— 😻Purrfect Date😻 (@PurrfectDate) May 17, 2019
More
Stories
comments powered by

Disqus