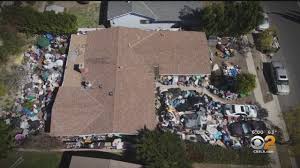 Junk yard house in Granada Hills suburb of LA CBS LA photo
Junk yard house in suburban LA
neighborhood causes neighbors
to fear for their safety
by Nathan'ette Burdine: March 4, 2021
Tweet
The location of their neighbor's junk yard house is something the folks in the
suburban Los Angeles neighborhood of Granada Hills
wish they could change.
For the past three years, they've been living next door to a junk yard house that has had everyone and thing from humans to rats tracing in and out at all hours of the night. "It's a junkyard. Not only is it an eyesore, I mean the piles of garbage and trash and everything else is a health hazard. We have vermin, rats, rodents, and God knows what else. It's a situation where an individual has people coming in at all hours of day and night disposing of truckloads of junk," is what
Tina Alleguez
told the folks over at CBS Los Angeles. The
time and cost to clean up all of that junk
will take somewhere between 2 to 3 months and $7,000 to $15,000.
The situation has upset Tina Alleguez so because she, along with her other neighbors, have sought, to no avail, recourse from the local government in order to nip the junk yard house problem in the bud. "We've complained to LAPD, the L.A. Fire Department, to Los Angeles Department of Building and Safety," is what
Tina Alleguez
told the CBS Los Angeles folks. The
neighbors
have filed a total of 11 complaints, with three still being looked into, about everything from trash circling the house to an illegal business going on inside the house and in the garage.
It doesn't take a rocket scientist to figure out that 11 complaints is a sign that there is a lot of wrong going on at the junk yard home and that somebody in the city of LA's government should have done more to nip that problem in the bud by time the second complaint came around. However, this is a situation that involves the law. And as many of y'all know, those two little words, due process, prevents the government from snatching folks up, all willy-nilly, by their tighty-whities, dragging them out of their junk yard houses, all because their filth has spilled over into the streets.
The government has to do what the law tells the government to do which is to follow the proper procedures in order to remove filthy people and their filth off the street. "I will continue to fight is what for legislative options that could give the City the ability to deal with unruly and uncooperative neighbors and keep our community safe. Because they have no prior criminal record, because this is a misdemeanor, there is a warrant, but you can't make an arrest on a case like this," is what
LA City Councilman John Lee
told the CBS LA folks.
Back in the years 2018 and 2019, the
city of LA Department of Building and Safety
took action against the junk yard house owner, an elderly woman.
The
city of LA Department of Building and Safety
used multiple complaints on the property in order to issue an order to the junk yard house owner to get the house in tip top shape.
The
homeowner
cleaned up the property. But, for some reason or another,
she decided in May 2019
that this time around she'll let her son get back to his ol' filthy ways of junking up the neighborhood again.
Her decision led to
the city of LA Department of Building and Safety
filing a criminal complaint against her.
The city attorney has the case and a court date is still pending. "I have dozens of similar cases that have been in court for several years with no resolution," is
the city of LA Fired Department inspector
told the CBS LA folks.
Therefore, the chances of the junk yard house case having a satisfying resolution for Tina Alleguez and her neighbors are slim to none.
More
Stories
comments powered by

Disqus