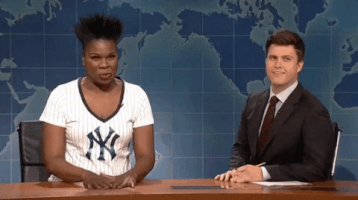 SNL Leslie Jones and Colin Jost November 5, 2017 GIPHY photo
Gary Sanchez thanked Leslie Jones
for her kind words on SNL
by Nathan'ette Burdine: November 7, 2017
Tweet
New York Yankees Catcher Gary Sanchez liked the shout out comedienne Leslie Jones gave him during her skit with Colin Jost on Saturday Night Live's (SNL) Weekend Update.
Sanchez tweeted:
Thank you @Lesdoggg for the kind words. Gotta keep my squat game on point now. Hilarious. Check it out: https://t.co/nkta9zga45 pic.twitter.com/nUOqgI5lab

— Gary Sanchez (@ElGarySanchez) November 6, 2017
Jones, who retweeted Sanchez's tweet, let Jost know that she is a Yankees fan for what she calls "all of the wrong reasons."
And what she means by this is she's just there to look at the men folks' in their uniforms.
Jones told Jost, "-I love to see those fine men in their tight little pen stripe pants...Hey, Gary Sanchez, when you gonna come hit this, out the park?...There's Gary Sanchez at bat and then there's me looking at that ass. Call me Gary, that net can't keep us apart not for long."
Jones wasn't too happy about the Houston Astros beating the New York Yankees and making it to the World Series; which the Astros won.
She told Jost that she doesn't understand how the Astros won considering they have folks on their team like Jose Altuve and George Springer, who she described in not so good terms.
Jones described Altuve as being so small that "the bat is bigger than him," and she said World Series MVP George Springer's name is more fitting for "a goofy mattress salesmen."
As y'all know about Jones, all of that big talk goes out the window once she sees a good looking man walk by.
And to her surprise, the Houston Astros popped up there during her skit with Jost. Standing behind her were Alex Bergman, George Springer, and Jose Altuve.
Jones turned around and saw the men and quickly changed her tune. Jost tried reminding her of her haterade but she quickly shot him down by telling him to "shut up."
Jones took one look at the men folks and said to Jost, "I know what I said but these men are fine as hell. I take it all back. Congratulations you guys, I loved watching y'all win."
She then let Altuve sit on her lap and said with a wide grin on her face, "Good things do come in small packages."
It's good that Jones loves the men folks. However, she's going to have to be careful before she ends up one day as an unfortunate headline on CNN, Fox News, MSNBC, the New York Times, and The Hollywood Reporter.
comments powered by

Disqus