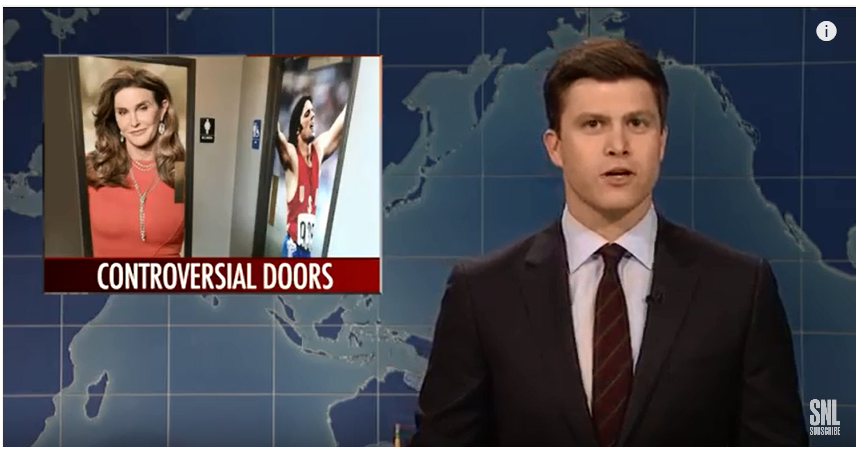 SNL Weekend Update YouTube screenshot
SNL Weekend Update's offensive
jokes are funny!
by Nathan'ette Burdine: May 21, 2018
Tweet
Before they went on their summer break, the folks over at Saturday Night Live (SNL) decided to give us something a little special on "Weekend Update" with Colin Jost and Michael Che.

And that little something special was none other than offensive jokes that are funny!

Y'all know! Jokes like the Boy Scouts of America really letting the little girls in to do girl work like sewing, cooking, cleaning, and washing. Stuff like that.

Then there's the Kardashian bathroom joke. The joke is about how some folks at a restaurant down in Texas decided they'd mess with their customers by placing the faces of Bruce and Caitlyn Jenner and Rob Kardashian on the bathrooms door.

I'm sure y'all can figure out which bathroom doors Bruce's, Caitlyn's, and Rob's faces are on.

If y'all can't, then I'll give y'all a hint. Let's start with little Robbie there.

Little Robbie Kardashian is known as the first male child in the history of man and woman kind to not be preferred over the female child.

So he's often treated as the little cross eyed sheep that Little Bo-Peep won't even tend to.

As for Bruce and Caitlyn, weeelll, Kris Jenner will always be known as the woman whose "pie" turned Bruce into Caitlyn.

I guess her "pie" was so good that he decided he wanted his own to play with.

Go on and take a gander at the SNL YouTube video down below. It's funny!
comments powered by

Disqus