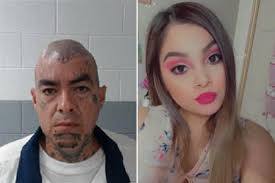 Left-Braulio Trevino Martinez Right-Lizbeth Flores
Suspect in Lizbeth Flores' case killed
her during robbery
by Nathan'ette Burdine: August 25, 2020
Tweet
This fella here, 39-year-old Braulio Trevino Martinez, has gotten himself two tickets, one to prison and the other to hell.
The
authorities in Mexico
say that Braulio Trevino Martinez is the human who beat 23-year-old Lizbeth Flores to death, pulled out all of her teeth, removed part of her scalp, and then left her partially naked body on the side of the road next to a construction site.
The
authorities
quickly identified Martinez as the main suspect in the case because of the trail of bread crumbs, cell phone records and fingerprints, he left for them to follow from Brownsville, Texas, to Metamoros, Mexico.
Martinez, who also knows Flores' family and her boyfriend, decided that robbing Flores was the best way for him to get some fast cash.
So on August 9, 2020,
Martinez
picked up the phone, called Flores at her home in Brownsville, Texas, and told her to quickly come over the border to Metamoros, Mexico, because her children's father had been kidnapped.
Lizbeth Flores dropped everything she was doing, grabbed her things, and then headed out to cross over the Veterans International Bridge into Mexico.
After making it across the border,
Lizbeth Flores
called her mother, Maria Rubio, to let her know that she'd be back home later on that night. Rubio thought nothing of it and said ok. But then, the night passed and Rubio hadn't heard from her daughter.
Nervousness soon kicked in, leaving Rubio with an eerie feeling that something terrible had happened. Lizbeth Flores never would've called her mother to tell her she was coming home and then not call her back to tell her why she had changed her mind. So,
Rubio
contacted the Brownsville Police Department in Texas and told them what was going on. The Brownsville police then contacted the Mexican authorities, which also led to the Federal Bureau of Investigation (FBI) getting involved.
In less than two days of being notified about Lizbeth Flores' disappearance, the
authorities in Mexico
found her lifeless body badly bruised lying out in the open near a construction site that is in an area frequented by robbers.
Needless to say, Flores' phone records and Martinez's fingerprints on her clothes and body were the bread crumbs leading the authorities to Martinez's home in Mexico.
I know there are those of you who are asking, "How could they get his fingerprints so quick when they didn't even know who the suspect was?"
The answer to that question is that
Martinez's past crimes
of sexual assault on a child and indecency with a child got him a four-year stay up state in Texas where they gathered and then placed his fingerprints and DNA in the state's database system.
Therefore, all the FBI had to do was get the information from the state and then hand it over to the authorities in Mexico so they could match it up with the evidence they had gathered from the crime scene.
Before the authorities arrested Braulio Trevino Martinez for the killing of Lizbeth Flores,
Maria Rubio
spoke to Telemundo about the pain of losing her daughter: "Losing a child is like having your heart ripped out. I feel such sadness because of what they did to my daughter. The way they left her…The pain that my daughter went through there, in that moment. That's what hurts."
Maria Rubio went on to say that she wants the hell bound scoundrel to suffer God's good wrath. "She had many things in front of her, and more because she had two children. I want that, what they did to my daughter, everyone that took part in her death, I want them to pay,"
Maria Rubio
said to Telemundo.
And "pay" on Earth and in hell is what Braulio Trevino Martinez will do.
More
Stories
comments powered by

Disqus