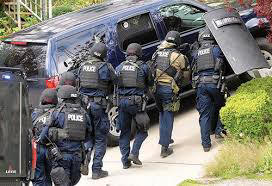 Combined Forces Special Enforcement Unit of British Columbia
The Combined Forces Special
Enforcement Unit of British
Columbia has decreased the
amount of gang activity in
British Columbia
by Nathan'ette Burdine: August 27, 2021
Tweet
The
Combined Forces Special Enforcement Unit of British Columbia (CFSEU-BC)
have managed to decrease the amount of gang activity in British Columbia by beefing up their patrol of the Brothers Keepers, the United Nations, Hells Angels, and others after a series of high profile gang killings in the public earlier during the year.
As a matter of fact, it was, back in May, after the public killings of United Nations gangster Karman Grewal and Brothers Keepers gangster Jaskeert Kalkat that the CFSEU-BC put up a poster warning the public about the heighten gang activity in the area.
The gangsters looked at that and were like, "We don't need that type of heat." So, they bounced. Some went to other provinces while others opted to just lay low.
"The co-ordinated collaborative approach by police was effective and remain effective. Certainly, the more attention that you pay them, the more disruptive, suppressive and uncomfortable it makes their lives and ability to do whatever it is they're trying to do. That also has the effect of causing them to disperse," is what
CFSEU-BC Staff Sgt. Lindsey Houghton
told the Vancouver Sun folks.
The one thing that is for sure is that it is not good to take part in the thug life because it can take away a person's life by either getting him or her a forever stay in prison or in the ground; which is what happened last Sunday to one of the gangsters,
21-year-old Min Zin
, who was featured on the CFSEU-BC's warning poster.
More
Stories
comments powered by

Disqus