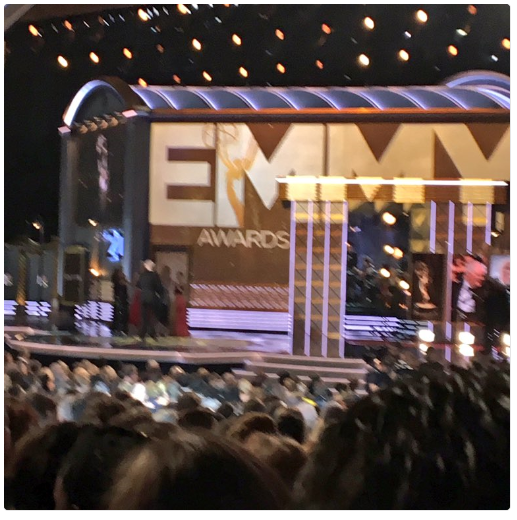 The Emmys 2017 Chris Gardner's Twitter page
The other goings on at the Emmys
that folks didn't see
by Nathan'ette Burdine: September 21, 2017
Tweet
There were some other goings on at the Emmys that folks didn't get to see.
Y'all know, goings on like the heat causing folks to jump up and go find a fan, fake paparazzi finding their way to the stage, and just other stuff.
Check out the tweets below to read and see what folks were up to.
So many dresses with trains in the #Emmys traffic jam. The AC is waning and men in tuxedos are fanning themselves. pic.twitter.com/QxwrbGgoZR

— Pret-a-Reporter (@pretareporter) September 17, 2017
As winners, presenters exit stage, faux paparazzo shoot pics as they walk by. Wonder how stars feel about it? Did it show on TV? #Emmys pic.twitter.com/578KwTqrko

— Chris Gardner (@chrissgardner) September 18, 2017
Nicole Kidman, Michelle Pfeiffer, and Jessica Lange at the #Emmys last Sunday pic.twitter.com/JOGEMR93L6

— Nicole Kidman Source (@KidmanSource) September 21, 2017
Legends only. #Emmys pic.twitter.com/zVnwy7KJOa

— AHS Spain (@AHSVIP) September 18, 2017
Jeffrey Dean Morgan and Hilarie Burton were glowing on the #Emmys red carpet and we think we know why... https://t.co/QuIPxbvdD4 pic.twitter.com/MJt3BKDZf8

— E! News (@enews) September 18, 2017
Mood.#Emmys2017 pic.twitter.com/hEiNmAV3TG

— Mad Men (@madmenpics) September 18, 2017
Almost show time! Join me in wishing Bob the best of luck tonight xo #Emmys2017 #BetterCallSaul pic.twitter.com/Xiv9UHbptD

— Michael Mando (@MandoMichael) September 17, 2017
Found the #BigLittleLies row at the #Emmys2017 ! pic.twitter.com/EP56dtkrfP

— Iain Armitage (@IainLoveTheatre) September 17, 2017
#StephenColbert rolls out Red Carpet for 69th #Emmys2017 @MicrosoftTheater : https://t.co/ygIo3fZ5aX pic.twitter.com/ypdhRMMjHO

— David Crane (@vidcrane) September 12, 2017
comments powered by

Disqus