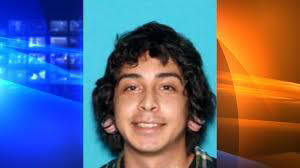 Victor Sosa
Victor Sosa was arrested in Rosarito,
Mexico in connection with the death
of his former girlfriend in Compton,
California
by Nathan'ette Burdine: July 9, 2021
Tweet
Last Friday, the police in Rosarito, Mexico, arrested 25-year-old
Victor (Killer Vic) Sosa
for the murder of his ex-girlfriend, 19-year old Daisy De La O, who he allegedly killed, back in February of this year, in Compton, California.
The way the story goes is that
Victor Sosa
left Daisy De La O's body behind the apartment complex where she and her family resided and then he flew the coup to Rosarito, Mexico.
While in Rosarito, Mexico,
Killer Vic
got himself a new name and job at the Papas and Beer bar and nightclub in Rosarito, Mexico, which is located about 39 minutes from the U.S.-Mexico border.
Everything was going just peachy for Killer Vic. He had a new name and a new job where he was making, shaking, and serving the Pina Coladas with the lil' pineapples and whatnot.
He was making the nachos, the tacos, the hamburgers, the French fries, the onion rings, and the Tatar tots. Ol' Killer Vic, there, was getting tips, hips, and lips.
He was living the good life, with no care in the world about how he killed a 19-year-old girl. February, March, April, May had all gone by smoothly and June was about to end. There were no signs that there were FBI WANTED signs for him.
Therefore, ol' Killer Vic, there, didn't need to be on the alert, with his antennas all the way up, for the Bounty Hunters, LAPD, FBI or the Rosarito police. He had gotten away with murder…that is until 10:30AM last Friday morning after the
Rosarito police
came knocking at his employer's door.
After the police caught up with him,
Killer Vic
did what criminals do which is to deny ever doing anything wrong until the pressure from the vice grip the police had on his marbles caused him to let the truth roll out like a mighty river down a hill.
Killer Vic, is in jail, now, awaiting the day when the jury will let him know how much of his life will be spent as Keloid Ron's wife.
More
Stories
comments powered by

Disqus