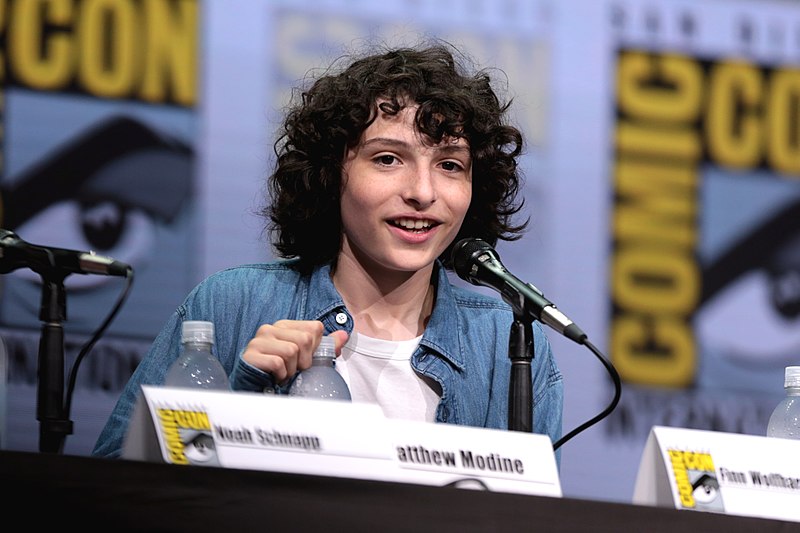 Finn Wolfhard July 22, 2017, Gage Skidmore's photo CC BY-SA 2.0
A grown man complained about
Stranger Things actor Finn
Wolfhard not speaking to him
by Nathan'ette Burdine: November 5, 2017
Tweet
A grown mad decided to go on the Twitter and complain about 14-year-old Stranger Things actor, Finn Wolfhard, not speaking to him.
The fella, whose Twitter handler is
xx@chadlerborrero
, tweeted this on Friday, "Imagine being 14 and heartless that you can't even stop for your fans who made you famous in the first place! WOW."
Folks on the Twitter went off on this crazy fella. The Walking Dead actor
Jake Kearney
, who was eaten by Shiva last Sunday, tweeted:
"How can you call a kid rude because he didn't take a photo with
you after you stalked him outside of his hotel? He's like 15, chill.
That's exactly what conventions are for. Go to a con and meet
him during designated times. You're the rude one in this
situation."
Another person
tweeted
that although he's a fan of Wolfhard, he has good enough sense to know that following "a 14 year old at his hotel" is a bit "too much."
A bit "too much," it is. However, that xx@chadlerborrero fella doesn't have good enough to sense to know why what he did was a bit "too much."
He enjoyed the fact that folks were pointing out that they see him as a nasty devil. He
tweet bragged
about how all the tweets had gotten him "99 notifications."
"99+Notifications..... You can all keep making excuses for MISS fIN," is what that
xx@chadlerborrero
fella tweeted.
Unfortunately for that fella, his dismissive attitude and inability to determine what is right from wrong is why he'll most likely end up in prison for doing some "Hollywood" like mess to a child.
And Wolfhard is a child. Sure, he has a job as an actor but his having a job as a famous actor doesn't make him anymore less of a child than the kid working at your local grocery store.
Like any normal 14-year-old boy, I'm quite sure Wolfhard loves video games and girls; not necessarily in that order.
But y'all get the point. The boy is 14. He doesn't do his own taxes. His mama and daddy, or accountants do his taxes for him.
Wolfhard wouldn't know a W-2 form if Jesus showed it to him. That's just how young Wolfhard is.
And it's for those reasons that it's quite normal for a 14-year-old to not want to talk to a grown man who may be showing too much interest in him.
Mm-hmm, think Kevin Spacey. Yeah, that. It's just beyond weird for grown folks to be feenin over children.
Something like that should get a person an expedited ticket to one of our nation's finest prison institutions because that's a sign that something just isn't right.
And it's just not right that this xx@chadlerborrero fella is crazy girlfriend trippin' over 14-year-old Finn Wolfhard not speaking to him.
comments powered by

Disqus