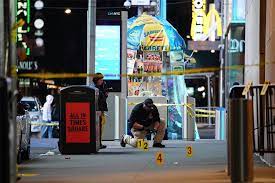 Shooting in Times Square
A man shot three female bystanders
in Times Square
by Nathan'ette Burdine: May 8, 2021
Tweet
A little before five o'clock this afternoon,
one man's decision to use bullets
in order to settle an argument that he was having with several other men ended with three females becoming innocent bystanders.
The
three females who were shot
were a 43-year-old New Jersey woman, a 23-year-old Rhode Island woman, and a 4-year-old Brooklyn girl who is being operated on at Bellevue Hospital.
Due to the fact that none of the bullets hit any vital organs like the heart, lungs, liver, kidney, or stomach,
all of the female folks will live
.
The bad news is that the police haven't caught the male suspect who decided to shoot 'em up, bang bang everything and body. The police have posted a picture of that devil, which y'all can take a gander at down below. Go on! Look at him! There he is!
WANTED for an Assault: On Saturday May 8 2021 , @ 4:55 P.M., in vicinity of West 44th St. and 7th Ave. @nypdMTSpct a unknown individual fired multiple shots striking a 46 year old female a 23 Year old female and a 4 year old female causing serious physical injury. pic.twitter.com/NsKRSuWb9Y

— NYPD Crime Stoppers (@NYPDTips) May 9, 2021
The police are asking that anybody who knows this prison bound human to call NYPD Crime Stoppers' phone number, which is 1-800-577-8477 (TIPS), so that the police may pick him up and transport him to his new home up state.
New York City has had an uptick in its crime rates so to the point that the city is quickly going back to its 1980s days. In over a period of a year (April 2020-April 2021), the
city has seen a 30.4% increase in crime
.
And y'all who live during the 80s remember how rough it was back then. It was so rough, back then in the 80s, that folks had a routine for waking up alive in the morning. They were like, "One knock means it's safe to get up. Two knocks means roll to the other side of the bed, and three knocks means go under the bed."
And that's how it is now. If you don't believe me, then just look at the fact that folks were shooting up the NYC so much, last month, to the point that they
shot the shooting rates up to 166.1%
.
Mm-hmm, NYC got a problem that they better hurry up and fix before they find themselves "Back to the Future" in the 1980s again.
More
Stories
comments powered by

Disqus