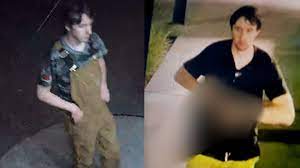 Langley Shooter Jordan Daniel Goggin
A witness says Jordan Daniel
Goggin was pacing back and
forth talking to himself saying
'I'm effed up'
by Nathan'ette Burdine: July 27, 2022
Tweet
Charity Ciszek
told CTV News that she knew something was wrong with Jordan Daniel Goggin when she saw him, 10 days before his killing spree, pacing back and forth, talking to himself. "I'm so effed up, I'm so effed up, this is effed up," is what
Charity Ciszek told CTV News
.
Ciszek
got a chance to witness Goggin in his "effed up" state because the two of them live on the same property.
She
lives in the main house and he lived in the coach house.
Ciszek
told CTV News that she didn't often talk to Goggin because he was off in his own world.
Why
Goggin
"kept to himself"? No one really knows. But what we do know is that
Goggin's being "effed up"
led to him taking a 15 minute drive from his home in Surrey to Langley where, during the early morning hours of July 25, 2022, he went on a 6-hour killing spree that left two homeless people injured and two homeless people dead.
British Columbia's (B.C) Integrated Homicide Investigation Team (IHIT)
released pictures, which the CCTV cameras caught, of Goggin doing a "killer uniform" change during the middle of his killing spree.
He
changed out of one stereotypical "killer" uniform, black t-shirt and shorts, into another stereotypical "killer" uniform, brown overalls and a camouflage t-shirt.
Yeah, that dude was "effed up" in the head, all right. The fact that he changed out of one "killer" uniform into another says he knew what he was doing.
Anybody who has the presence of mind to change from one outfit into another, while he is doing wrong, knows that he is doing wrong. And is therefore trying to hide his wrong, by changing his appearance, so he doesn't get caught by the cops.
Folks, remember, a person who is all "effed up" in the head doesn't bring a change of clothes that he then changes into while he is doing wrong. A person who is truly "effed up" in the head is too foggy to know what he is doing.
But that dude, 28-year-old, 6 foot 1 inch Jordan Daniel Goggin, knew what he was doing. And what he was doing was killing homeless people,
from 12AM to 6AM
, early Monday morning. Hm, maybe that's why he said, "this is so effed up," because his killing was attached to someone or some group that he was either trying to impress or trying to become a member of.
Having said that, it's understandable that the
police
, the Royal Canadian Mounted Police (RCMP) and IHIT, aren't labelling this a hate crime based upon the fact that Goggin targeted homeless people. I know how it sounds.
The police are right, though. For all we know, Goggin could've targeted the homeless group of people because he wanted to use the killings as a cover for another killing he wanted to do. Not saying there was another killing, but that does happen sometime.
The point is that no one knows exactly why Goggin decided it was a good idea to take other human beings lives that ended with the police having to take his life.
The police are in the process of figuring that out so that they can stop any other possible threats that may exist as well as to help the victims' families and friends to get some closure.
More
Stories
comments powered by

Disqus