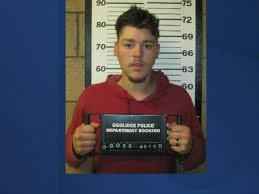 19-year-old Brand Soules jail photo
A young Arizona man kidnapped
himself because he did not want
to go to work
by Nathan'ette Burdine: March 1, 2021
Tweet
A
19-year-old teenager named Brandon Soules
from Arizona decided that work is just something he does not want to do. Therefore,
he took the extreme measure of kidnapping himself
in order to get out of work.
Last month,
Brandon Soules
beat himself up and then took himself out to the desert where
a person passing by
saw him beat up and helpless in the Arizona desert.
The police came to the scene, got him out of the desert, and then took him back to the station for questioning.
Brandon Soules
told the Coolidge Police officers that he was standing there in front of his house when the kidnappers came along and knocked him upside his head and threw him in a car.
What 19-year-old Brand Soules didn't know, however, is that the police had looked at the security tape from his house. And his mama and daddy's security camera didn't show him getting knocked upside the head and thrown into the kidnapper's car. "…we were able to see no such thing," is what
Coolidge Police Department Commander Mark Tercero
told the nbc 12 news folks.
After being confronted with the truth, the
19-year-old fella
, who was charged with filing a false report, broke down and spilled all the beans on himself. "He informed us that he at first stuffed a bandanna in his mouth. Afterwards, he took off his own belt and bound his hands with his own belt. (He) laid on the ground and scooted out on the side of the road so somebody could see him and waited," is what
an official with the Coolidge Police Department
told the abc 11 news folks.
In all honesty, it sounds like 19-year-old Brandon Soules was working his first job. And as many of y'all know, working a job is stressful in and of itself. Therefore, just imagine what 19-year-old Brandon Soules was going through mentally and physically having to get up to go to work. It was a traumatic experience that led the young fella to kidnapping himself.
Hopefully, he can get the help he needs so that he can successfully transition over to being an adult.
Or, he can take four years off from adulthood by going to college like the other young folks do.
More
Stories
comments powered by

Disqus