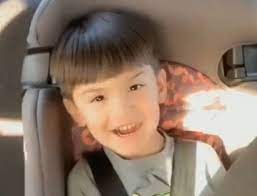 Aiden Leos
Aiden Leos is the 6-year-old boy
who was killed during a road rage
shooting on the 55 Freeway in
Orange County, California
by Nathan'ette Burdine: May 23, 2021
Tweet
Two days ago, on Friday morning, between the hours of 7:55AM and 8:15AM, a six-year-old boy named
Aiden Leos
was killed during a road rage shooting on the 55 Freeway in Orange County, California.
The
California Highway Patrol (CHP)
told the folks over at abc 7 that the shooter was in a white Volkswagen wagon sedan. There were two "humans" in the shooter's car, a female human driver and a male human passenger.
Who did the shooting? The police don't know that yet. Why the person did the shooting? The police don't know that either. The one thing that is for sho,'though, is that the "human" who killed 6-year-old Aiden Leos also ended up killing him or herself after he or she pulled the trigger that sent the bullets flying out of the gun's chamber, through the back of the trunk, into
little Aiden's
fragile, 6-year-old body.
"Please help us find the people who did this to my little brother. He's only 6 and he was so sweet. He was a very, very loving boy. So, please help us find who did this to him," what the abc 7 news folks quoted
Aiden's sister, Alexis Cloonan
, as saying.
Little Aiden
had just turned six years old. And like many six-year olds, I'm quite sure Little Aiden went around telling everybody that he could that he was a big boy because he was going to school;
a kindergartener
, to be exact, over at Calvary Chapel Yorba Linda.
During the press conference, his uncle John Cloonan said that his sister, Little Aiden's and Little Alexis' mother, is a single parent who was working and raising her two children on her own. "My sister has been through a lot. She's a single mom. And you took her son away. You took her boy away. This boy was full of love and joy and laughter," the abc 7 news folks quoted
John Cloonan
as saying.
Yup, whoever thought it was a good idea to kill a six-year-old baby is going to think that what we humans do to him or her is a cake walk compared to what Mr. Morningstar has prepared for him or her down in hell, below.
If anyone has any information about the identity of these hellhound human beings, please feel free to contact the
California Highway Patrol
, over in Santa Ana, at 714-567-6000 so they can take them to our human zoo called the jail.
A
gofundme page
has been set up for Little Aiden's mother and it has raised over $140,000.
More
Stories
comments powered by

Disqus