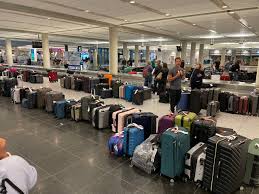 Baggage in the baggage claim area
Air Canada delayed a woman's
luggage and flew a man's cats
to San Francisco without him
by Nathan'ette Burdine: July 25, 2022
Tweet
Air Canada, which markets itself as having the
"best airline staff in Canada and North America,"
has gotten itself some bad press. The bad press is due to none other than the "best airline staff in Canada and North America"
delaying a passenger's luggage
for two days and flying a
man's cats down to San Francisco
without him. The incident with the woman,
Jessica Kalynn
, happened last year during the month of September.
Jessica Kalynn
boarded Air Canada to Dubai for a six-day work trip. Well, after arriving in Dubai and standing there in the baggage claim area,
Kalynn
noticed that her two bags containing her many shoes, six pants, five shirts, and one bathing suit…Wait a minute, she just brought two bras and four drawers on a six-day trip?!
Well, she did say it was a work trip and her company is probably not paying her enough money to buy enough decent pairs of bras and drawers.
Due to her having to use money, which most likely came from her company's credit card,
to buy over $2,000
worth of clothes, socks, bras, drawers, toothpaste, toothbrush, mouthwash, soap, and deodorant, Kalynn went to the B.C. Civil Resolution Tribunal and told them that she wanted $2,120.67.
The
$2,120.67 amount is $793.30 less than the $2,200 maximum
that a passenger can receive after she has been wronged by an airline with the "best airline staff in Canada and North America."
The B.C. Civil Resolution, though, didn't believe that Kalynn needed to buy $2,000 plus items in order to replace what she said were items totaling $2,120.67.
The
B.C. Civil Resolution
was like, "Yeah, Air Canada was wrong which they admitted by giving you $500. On the other hand, we're only going to add $700 to that $500 because that $2,000 plus amount is just way too much."
Although Kalynn didn't get her $2,120.67, y'all get the point which is Air Canada with its top shelf airline staff is no different than Spirit Airlines, meaning Air Canada is raggedier than "holy pants". Another case in point of just how raggedy Air Canada is is the dude with the cats that Air Canada flew to San Francisco without him.
Earlier this month back on the 6th,
Abbas Zoeb
and his two cats, Mimi and Bubba, were headed from Toronto to San Francisco.
Abbas Zoeb
told the folks over at Insider that Air Canada told him that although there was a good chance his luggage would be late, his cats would not.
Welp, the cats got to San Fran before he and his luggage did. At first, Air Canada was like, "Read the sign, not our problem." But then they manage to get the
two little felines to Zoeb
who said the two little tights were sick and tired and sneezing. Hm, hope the cats don't have COVID-19.
After that incident, along with several others involving furry little friends,
Air Canada
decided to tell folks to take their pets on the plane as carry on.
Let me tell you, folks, those carry ons are expensive. For your
standard fare
, the first bag is free but the second bag is $65.00; which is gas money. The
basic fare
is worse because the first bag is $45 and the second bag is $65. Therefore, if you bring on two bags then you'll be out of $110.00, which is two full tanks of gas.
For their part, Air Canada is blaming everybody except themselves. Here's what
Air Canada
told the folks over at Insider, "The global air transport industry is currently challenged due to issues with airport capacity issues, airport-managed baggage systems and third-party providers of such services as passenger screening, customs, and air navigation. We are working hard with these partners and governments to resolve these issues as they are affecting the performance of airlines."
Basically, Air Canada with its "best airline staff in Canada and North America" can't handle the high demand from its customers in Canada and North America.
More
Stories
comments powered by

Disqus