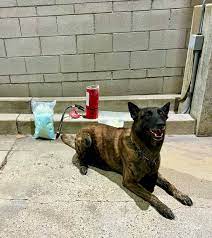 K-9 Officer Otis
Alhambra Police Dog Otis sniffed
out 50,000 fentanyl pills that
were hidden in a fire extinguisher
by Nathan'ette Burdine: November 30, 2022
Tweet
K-9 Otis is an Alhambra police officer
who sniffed out 50,000 fentanyl pills that were hidden away in a fire extinguisher.
It was exactly a week before Thanksgiving when K-9 Otis came across the big find. K-9 Otis and his human were driving on the road in their Alhambra police vehicle when they came across a male human who wasn't following the rules of the road.
They put on their red, white, and blue. The human pull over. K-9 Otis' human stopped the police vehicle, got out, and walked up to the other human's vehicle. K-9 Otis' human had the other human to step out so they could check the vehicle.
While going through the car, K-9 Otis' nose begin wiggling like Rudolph's' red nose does before it shines so bright so it can guide Santa's sleigh at night. Smelling something that wasn't pumpkin pie, K-9 Otis ran to the fire extinguisher and alerted his human.
The human officer came over, checked out the fire extinguisher, and low and behold he did not find pumpkin pie. Instead, he found pills that would give a drug dealer enough money to buy a lifetime's worth of pumpkin pies.
The human officer arrested the criminal human and then hauled him off to the big house. K-9 Otis got a pat on his head, a chair at the table, and a big turkey leg for Thanksgiving!
More
Stories
comments powered by

Disqus