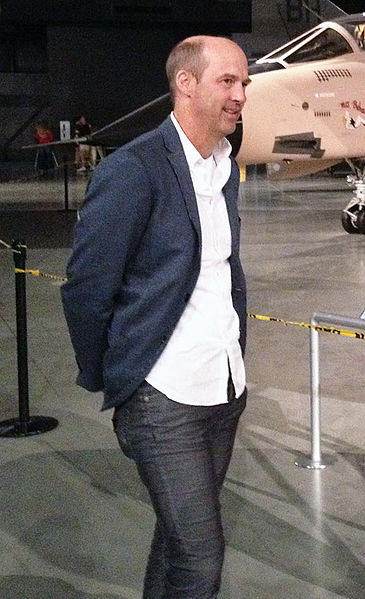 Anthony Edwards April 13, 2013, U.S. Air Force's photo
Anthony Edwards-My abuse may
always be with me but it doesn't
own me
by Nathan'ette Burdine: November 14, 2017
Tweet
Top Gun and ER star
Anthony Edwards
wrote an article in Medium in which he alleges that famed producer Gary Goddard took advantage of his father like figure relationship with Edwards and his four friends and sexually molested the young boys.
Edwards wrote, "My abuse may always be with me, but it does not own me. For far too many years, I held onto the idea that love was conditional-and so I would look for someone or something other than my higher self to define those conditions and requirements for me."
Edwards wrote that when he was 12-years-old he met Goddard. And that Goddard was able to play the father figure role because Edwards' father, who suffered from PTSD, was absent from his life and it was just he and his mother.
After she'd heard about Goddard's alleged pedophilia ways, Edwards' mother became concerned about her son's relationship with Goddard.
Due to Edwards not being able to bring himself to tell his mother what had really occurred, he told her that the rumors were not true.
Edwards wrote about his conversation with his mother, "I denied it through tears of complete panic. To face that truth was not an option as my sense of self completely enmeshed in my gang of five friends who were all led by this sick father figure."
Edwards stated that during the 1990s he approached Goddard about his alleged behavior and that Goddard told him he was seeking help.
Goddard
denies Edwards' claims. However, Edwards claims along with past allegations and several Hollywood big timers being forced to step down due to allegations of sexual harassment are causing Goddard's claims to fall on deaf ears.
Three years ago,
Goddard and four other Hollywood big timers
were sued for allegedly sexually harassing Michael Egan III when he was a teenager.
The
case
was filed in Hawaii but later dismissed without prejudice; meaning it could be refiled later.
Although
Egan
did not refile the case in Hawaii, he has filed it in a Los Angeles' court.
Edwards
wrote that with the help of his friends he has been able to get the professional help needed in order to deal with his ordeal with Goddard.
Edwards
wrote in his article, "Secrecy and shame and fear are the tools of abuse, and it is only by breaking the stigma of childhood sexual abuse that we can heal, change attitudes and create safer environments for our children."
comments powered by

Disqus