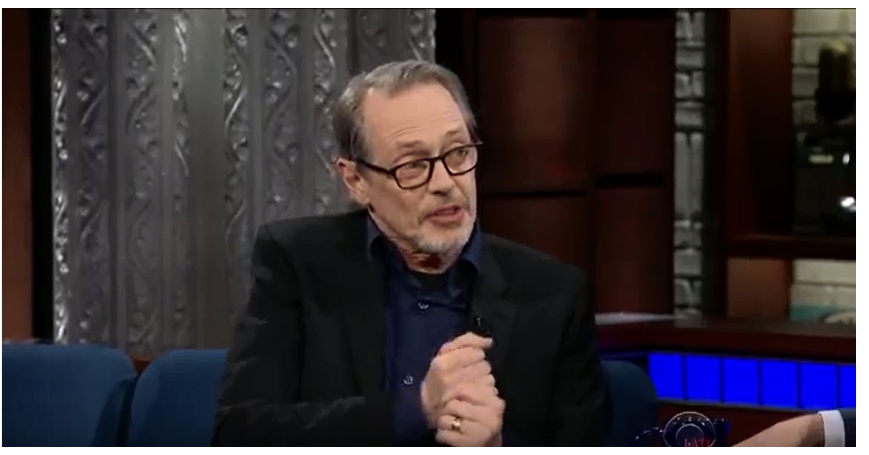 LSSC Steve Buscemi Screenshot
Bootlegging movies the one thing the
Russians and Americans have in common
by Nathan'ette Burdine: March 15, 2018
Tweet
If you watched The Late Show with Stephen Colbert about two Fridays ago, you would've learned that bootlegging movies is the one thing Americans and Russians have in common.

Steve Buscemi, who plays Nikita Khrushchev in the movie The Death of Stalin, told Stephen Colbert that a Russian man approached him and asked if he wanted to buy a movie he showed at a film festival.

Buscemi said about the Russian fella, "-this Russian gentleman came up to me and said that he loved the film. And I said, 'Well, it hasn't shown yet. It is showing tomorrow night.' And he goes, 'No, no I saw it on TV in the homeland.' I was like, 'really?'"

Colbert sat there in shock, with his mouth wide open, realizing that someone had just bootlegged Buscemi's film.

Colbert said to Buscemi, "They somehow stole it and showed it on TV before the movie came out?"

And Buscemi, who's use to the Russian's way of doing things, simply responded, "Yeah. They have their ways, as we know."

Yes, "we know," the Russians love to steal. Whether it's movies or elections, although the latter they deny, the Russian will steal it.

Like the Russians, we have folks over here in the U.S. of A who bootleg. Y'all know we do! Some of y'all have a bootleg movie and or CD in y'all's houses right now!

Don't worry. The feds won't bust down y'all's doors to take y'all's bootleg movies and CDs.

Hell, some of them have bootleg merchandise. So calm down, ain't nobody coming to get y'all for supporting y'all's local bootlegger. That is unless y'all's local bootlegger is Russian Vlad who has that pee pee tape. Ha, the pee pee tape!

Full disclosure-I don't support bootlegging. I've never bought a bootleg movie or CD and I never made a bootleg movie or CD. I don't watch a movie unless it's on HBO and I don't own CDs that I haven't bought from the store.

Now that that's out of the way, go on there and watch the video down below of Steve Buscemi telling Stephen Colbert about the Russian bootleggers.
comments powered by

Disqus