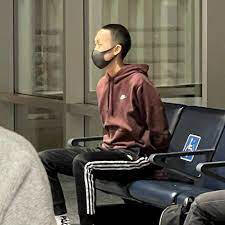 Brian Hsu
Brian Hsu says he punched an
American Airlines flight attendant
in self-defense
by Nathan'ette Burdine: November 2, 2021
Tweet
Brian Hsu
told an FBI agent that he punched an American Airlines flight attendant in self-defense.
The
20-year-old
, whose sky high fight led to him getting hit with an interference and assault charge, told the agent that due to a recent reconstructive skull surgery any impact to his head increases his chances of severe injury or death.
In other words,
Brian Hsu
believes his blooding of the flight attendant's nose and his fists pounding against her head, causing her to get a concussion, was justified because it prevented the flight attendant from using her fists pounding moves to cause severe injury or death to come upon him.
As evidence of his dire state causing him to defend himself,
Hsu
told the agent that he cannot stand the sight, sounds, smells, or feels of anything or one. Seeing people, smelling them, or feeling them leads to
Hsu
going into a "mental fog."
Hsu
reportedly told the agents that he got into that state of being after he was beat down like a dog in the street by a gang of hooligans in NYC.
And as a matter of fact,
he was on the flight
, en-route from NYC, NY, to Santa Ana, CA, because he was going home after the doctors in Rhode Island, NJ, successfully performed reconstructive surgery on his skull that the gang of hooligans in NYC damaged last year.
After letting all of that out of his mouth,
Hsu
turned around and told the agent that it was impossible for him to have punched the flight attendant even one time because he injured his hand, last week, while playing football.
The FBI agent just wrote everything down and probably, like the rest of us, thought to him or herself, "This kid must think I'm crazy to believe that he could play football after getting his noggin knocked around by a bunch of hooligans."
Recognizing that her son's story wasn't adding up, the mother tried backing him up.
She
told the agent that her son did have reconstructive surgery and he's been not so brand new ever since the beat down in NYC and that he "fractured his finger" while working out. Needless to say, the FBI agent didn't think the mother and son's story were the right type of ones adding up to the right type of two.
The
feds charged 20-year-old Brian Hsu
with interference with a flight attendant and assault within the special aircraft jurisdiction of the United States.
Brian Hsu
could get 20 years and a $250,000 fine on the first charge, and 1 year and a $100,000 fine on the second charge.
Brian Hsu
had to pay that $10,000 bond in order to get out of jail. But, I guess none of that matters since he was flying first class, meaning his mama and daddy can afford it.
Brian Hsu's next court date
is two weeks away on the 15th of November in Denver, CO, which is where American Airlines dropped him off after his fight with the flight attendant.
Oh yeah,
American Airlines
says that Brian Hsu can't fly with them anymore.
Oh well, sucks for him!
More
Stories
comments powered by

Disqus