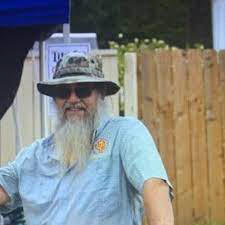 Timonthy Satterlee Sr
Coroner confirms the remains found
in an alligator are those of an elderly
man who went missing during
Hurricane Ida
by Nathan'ette Burdine: October 29, 2021
Tweet
St. Tammany Parish Coroner Dr. Charles Preston
used DNA samples and medical records in order to identify 71-year-old Timonthy Satterlee Sr's., remains that were found in a 12 foot long, 504 pound alligator. "I'm comfortable saying the remains are that of Mr. Satterlee," is what NOLA quoted Dr. Charles Preston as saying.
Mr. Satterlee's remains ended up in the alligator after the alligator spotted what it saw as its lunch walking the knee high deep residential roads of Avery Estates in Slidell, Louisiana, following Hurricane Ida's visit.
The alligator snuck up on Mr. Satterlee, yanked him down into the water, and then got him in a death roll. Mr. Satterlee's wife, Mrs. Satterlee, was standing in her kitchen window when she saw and heard the gator trying to make her husband its take-out lunch.
Needless to say, Mrs. Satterlee wasn't having it! She wasn't about to let that big bad gator make her husband his take-out lunch. So, she ran out there in the gator filled water, ran that devil gator away, and then pulled her husband onto their porch.
Sadly, though, the damage was already done. The gator had taken Mr. Satterlee's arm. Blood was gushing out everywhere. Mr. Satterlee's color changed. His body was getting colder and he was unconscious. Seeing the dire state that her husband was in, Mrs. Satterlee hoped into a canoe and went up the road for help.
Unbeknownst to Mrs. Satterlee, the 12 foot, 504 pound gator hadn't gone far. The gator was nearby, standing watch, patiently waiting for the perfect opportunity to grab the rest of Mr. Satterlee.
Two weeks later, the
St. Tammany Parish Sheriff Deputies
found the 12 foot, 504 pound gator resting comfortably in its house, in a marsh, with Mr. Satterlee's remains in him.
The
sheriff deputies
did one of those no knock warrants on the gator and then shot him point blank, right between the eyes. After killing the natural born killer, the
sheriff deputies
grabbed the gator's corpse, placed it on their boats, and then took it to the wildlife police who cut open the gator's corpse.
Right there, before their eyes,
they saw parts of Mr. Satterlee's face
. Talk about a positive ID. They got what remained of Mr. Satterlee out of the gator, packed up the evidence, and then shipped him over to the coroner.
Dr. Charles Preston and his team got to work. They
obtained DNA samples
from Mr. and Mrs. Satterlee's sons, as well as dental and surgery records, in order to ID the remains.
Pins and needles! Pins and needles is what everyone was sitting on! Louisiana has swamp infested waters filled with 2 million alligators. And it doesn't take a Category 4 Hurricane, like Ida, hitting the state in order for folks to find themselves at the bottom of the swamp in the bottom of an alligator.
Folks in Louisiana go missing every day and some of them go missing because an alligator has decided to make them its dinner. Therefore, even with parts of Mr. Satterlee's face looking up from the gator's insides, the coroner had to be certain that it was Mr. Satterlee and not someone who looked like Mr. Satterlee and just so happen to find himself being a victim of "Nature's Law." "We had a lot of luck on our side. It was the first one they caught,"
"Capt. Lance Vitter
, Sheriff's Office spokesperson told NOLA.
"Luck" and divine intervention is what they had. With
2 million alligators
and millions of people living in and coming through the state, they had a better chance of hitting Play 6 than they did of finding Mr. Satterlee. So yeah, "luck" and God helped out with that one.
It's still sad, though, because although the Satterlee family gets the closure they need, they are still without a love one and it's going to take quite some time for them to be able to just live with their loss.
More
Stories
comments powered by

Disqus