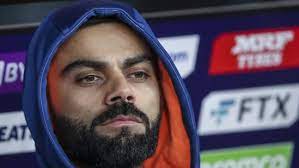 Team India Cricket Player Virat Kohli
Crown Perth says one of its
contractors went into Virat Kohli's
room without his permission
by Nathan'ette Burdine: November 1, 2022
Tweet
The exclusive Australian hotel, casino, and resort, Crown Perth, is pointing its finger at one of its contractors for the private photos of cricket player, Virat Kohli's, room ending up on Instagram without his permission.
Here's what the
Crown Perth folks
said in their apology statement, "We are aware of an incident involving a contractor and the privacy of a guest at Crown Perth. The safety and privacy of our guests is our number one priority, and we are incredibly disappointed this incident has occurred. We unreservedly apologise to the guest involved and will continue to take the necessary steps to ensure this remains an isolated incident."
The Crown Perth folks went on to say that they've given the alleged snooper the boot and are working with the third party who employs the alleged snooper, as well as the Indian Cricket Team and the International Cricket Council, in order to nip it in the bud.
The folks over at Team India and the ICC are madder than a broke rich man about that incident because it made their players feel unsafe to eat or sleep in the space that the Crown Perth folks were providing to them while they were off working, playing cricket. "If I cannot have privacy in my own hotel room, then where can I really expect any personal space at all??" is what Virat Kohli posted to his Instagram page.
There Kohli and Team India were out working, during the T20 World Cup competition, and some snooper, under the guise of being a trusted employee for a third-party contractor, goes into his room and starts taking pictures of his stuff.
Unbeknownst to the alleged snooper, it's not the taking of the pictures but the going into somebody's room part without his or her permission that can lead to
6 months in lockup and a $5,000 fine
.
It's like the ol' saying goes, "You can't do one thing without doing the second thing that has you worried about many things."
Trespassing is bad, m'kay!
More
Stories
comments powered by

Disqus