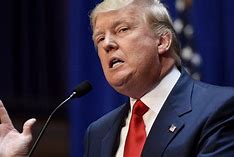 Not my photo
Donald Trump says the House
Judiciary Committee's decision
to mail out 81 documents is
just 'nonsense'
by Nathan'ette Burdine: March 6, 2019
Tweet
Donald Trump says the House Judiciary Committee's decision to mail out 81 documents is just 'nonsense.'
Trump told the press, "Instead of doing so many things they should be doing, they want to play games…It's too bad because I rather see them do legislation. We negotiate out legislation. We have so many things, actually things that we agree on, like infrastructure. But they want to focus on nonsense."
Some of the individuals and or entities who are included on the
House Judiciary Committee's mailing list
includes Trump Organization Chief Financial Officer (CFO) Allen Weisselberg, Donald Trump Jr., Eric Trump, Jared Kushner, the Trump Campaign, and the FBI.
House Judiciary Committee Chairman Jerrold Nadler (D-NY) told ABC's
"this week"
host George Stephanopoulos that he believes Donald Trump "obstructed justice" and his committee is gathering the evidence to see if the president should be impeached.
Nadler said to Stephanopoulos
, "We have to do the investigation to get all of this. We don't have all of the evidence sorted out to do an impeachment."
Trump has tweeted that the Democrats investigations into his business dealings amount to "presidential harassment."
Presidential Harassment by "crazed" Democrats at the highest level in the history of our Country. Likewise, the most vicious and corrupt Mainstream Media that any president has ever had to endure - Yet the most successful first two years for any

— Donald J. Trump (@realDonaldTrump) March 4, 2019
....President. We are WINNING big, the envy of the WORLD, but just think what it could be?

— Donald J. Trump (@realDonaldTrump) March 4, 2019
There are several investigations being conducted into any connections Donald Trump and his campaign had with Russia during the 2016 Presidential Campaign, his use of power as president to influence business deals, and possible tax fraud associated with the Trump Organization and Trump Foundation.
A recent
poll by Monmouth University
shows the number of Americans who support impeaching the president has increased by six percentage points from 36% in November 2018 to 42% in March 2019.
The number of
Americans who say Trump should not be impeached
has decreased by five percentage points from 59% in November 2018 to 54% in March 2019.
comments powered by

Disqus