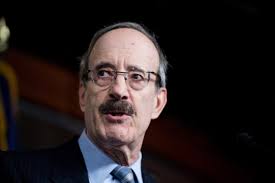 Congressman Eliot Engel
Eliot Engel told CNN that at his request
Steve Linick was investigating the Trump
Administration's Saudi arms deal
bby Nathan'ette Burdine: May 27, 2020
Tweet
The folks over at CNN say that House Foreign Affairs Committee Chairman Eliot Engel (D-NY) told them that at his request the former State Department Inspector General (IG) Steve (Steveie L) Linick opened up an investigation into President Donald (Trumpsies) Trump's emergency declaration order to speed up the sale of $8.1 billion worth of weapons to Donald Trump's besties, Saudi Arabia.
Related-
I do not think Donald Trump will cooperate with Eliot Engel's investigation into his Saudi arms deal
Eliot Engel was letting Steve Linick do his investigation. But then, Donald Trump decided to fire Steve Linick on a Friday night when everybody was home sleeping.
To a career politician like Eliot Engel, the Friday night firing of Steve Linick is a sign that a whole lot of foul things are going on. It also doesn't help Donald Trump's case that Steve Linick became the fourth IG to get fired after he did what the other three IGs did; which is his job of investigating the shady dealings going on within the Trump Administration.
After Donald Trump fired Steve Linick on a Friday night, Eliot Engel decided to ramp up his looking intos of Donald Trump's emergency declaration order to speed up the sale of weapons to Saudi Araba.
Eliot Engel got with Senate Committee on Foreign Relations Ranking Member Sen. Robert Menendez (D-NJ) and the two wrote and then mailed a letter to White House Chief of Staff Mark Meadows and cc a copy to White House Counsel Pat Cipollone; telling them that Donald Trump better have all of those documents that they want for their investigation into Trumpsies alleged shady ways.
"As the House and Senate Committees with primary responsibility for oversight of the State Department, we intend to look deeply into the matter. We anticipate contacting your office in the coming days to request additional documents and interviews of White House officials related to this matter, and trust that the White House will cooperate fully with our investigation." That's what Engel and Menendez said.
Hey, does anyone recognize that the Menendez dude has the same last name as the Menendez Brothers?! Anyway, I digress. As I was saying, Trumpsies is not too happy about all of these letters he's getting about investigations into the Saudi deal that Congress failed to stop back in 2019.
"This is why I'm firing everybody who works for the U.S. Postal
Service. They burn up all of my letters from Kim Jong-un, but they
let this crap from the Democrats get through. Hey, Marky Marky
and the Funky Bunch, you two take this shit paper the Democrats
wrote this shit on and you flush it down the toilet, where it
belongs. Hey, Broke Malibu Barbie Katie, order me a cheeseburger
with a diet coke. Make sure they put more cherries in my coke. I
only had one cherry the last time," is what Trump be like.
The main thing that got Trumpsies' panties all in a bunch is the fact that Congress failed, during July of last year, to override his veto of the bi-partisan bill, Saudi Arabia False Emergencies (SAFE) Act.
The SAFE Act would've made it more difficult for any administration to bypass Congress and use the Arms Export Control Act (AECA) in order to speed up the sale of arms to countries, like Saudi Arabia, which have a track record of dropping bombs just because.
Now, just to be clear, the SAFE Act would've restricted any administration from bypassing Congress in order to use AECA to sell weapons to countries that aren't our allies and or security partners.
The SAFE Act wouldn't've restricted any administration from by-passing Congress and using AECA to sell weapons to our allies and other security partners like NATO countries, Australia, Israel, Japan, South Korea, and New Zealand.
During that time, Senators Robert Menendez, Lindsey Graham (R-SC), Patrick Leahy (D-VT), Rand Paul (R-KY), and Chris Murphy (D-CT) issued a joint statement condemning President Donald Trump's decision to move forward with the Saudi arms deal.
The bi-partisan group of senators let the president know that his Secretary of State's, Mike Pompeo, attempts at scaring the American people into believing that Iran posed an imminent threat that only the Saudis could help us to vanquish is why they sent out 22 joint resolutions that ended up stopping the sale of "22 arms sales to Saudi Arabia and the United Arab Emirates."
As y'all can see, the $8.1 billion Saudi deal was a big to do. And now that the man, Steve Linick, who Eliot Engel asked to investigate the deal is gone, the Saudi deal may become a big to do that ends up doing some Trump Administration folks, like Mike (Mikey Boy) Pompeo, in.
Trumpsies doesn't have anything to worry about because as mad as the Republicans are about him doing business with the Saudis, they aren't about to join together to help the Democrats remove one of their own. Therefore, Trumpsies is safe, for now, but Mikey Boy, not so much.
Mikey Boy was under investigation for his shady side dealings, on behalf of Trumpsies, with Saudi Arabia and his working his staff and aides like they're his private maids and butlers.
The word is out that Mikey Boy had his staff and aides picking up his food, getting him and his wife's clothes from the dry cleaners, walking the dog, and scheduling these uppity dinners called the Madison Dinners for D.C.'s uppity class to attend.
Mike Pompeo's says that none of that is true. As evidence of the non-truthiness of it all, Mikey Boy uses the "I didn't even know" argument. And what Mike Pompeo told the
Washington (WaPo) Post
that he "didn't even know" about is Steve Linick's investigation into Mikey Boy's uppity dinners and dog walking aides.
Folks, as y'all know, the whole problem with the "I didn't even know" argument is that folks assume that you would have done what you're being accused of doing if you had known.
Case in point, Mikey Boy and Trumpsies pointing the finger at the other for the "justifiable" firing of an inspector general who both say was "bad" at his job.
There is this fella by the name of Brian (BB) Bulatao, who is the undersecretary for management at the State Department, who told the
WaPo
folks that there were concerns about Steve Linick giving information to the press about cases that were in the early phases of investigation.
Brian Bulatao also said that Steve Linick got himself into more trouble when he paid no never mind to the then Deputy Secretary of State John Sullivan's request that he get the folks over at the Council of the Inspectors General on Integrity and Efficiency to investigate his "leaky office."
Steve Linick was like, "Nah, I'm not doing that. I'll get somebody I know who likes me to investigate me," which is what Brian (BB) Bulatao told the
WaPo
that Stevie L did.
Yeah, Stevie L's number two is stinking. Having said that, it still isn't enough to get around the fact that Mikey Boy and Trumpsies are both trying to throw each other off the pot and into the fire over a firing they say was "justifiable."
Mikey Boy is no longer taking any responsibility for Stevie L being gone. Now, Mikey boy is blaming Trumpsies, telling everybody that Trumpsies is the one who really fired Stevie L.
Trumpsies, of course, says that the only reason he agreed to the firing is because "Mike told me to fire him." Sounds familiar, doesn't it. It's the same line of reasoning that Donald Trump used when he said that former Deputy Attorney General Rod Rosenstein, who ended up taking the door marked exit, is the one who fired former FBI Director James Comey. And then Donald Trump turned around and told the Russians that he "fired the head of the FBI" because he was a "real nut job." Oh yes, let's not forget that Donald Trump also told NBC's Lester Holt that he let James Comey go because of "the whole Russian thing."
So yeah, Trumpsies will slip up and tell Fox and Friends that he fired Steve Linick because of the whole Saudi arms deal thing.
More
Stories
comments powered by

Disqus