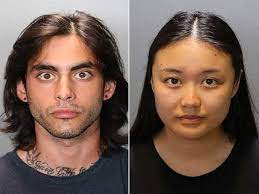 Left-Marcus Anthony Eriz Right-Wynne Lee
Fatal Freeway shooting suspects
Marcus Anthony Eriz and Wynne
Lee are being held on a
$1 million bond
by Nathan'ette Burdine: June 8, 2021
Tweet
The California Highway Patrol in Santa Ana, California, confirmed, via tweet, that 24-year-old Marcus Anthony Eriz and his gal pal, 23-year-old Wynne Lee, are the two suspects who were arrested in the fatal 55 Freeway shooting that ended with the death of 6-year-old Aiden Leos.
Related: Aiden Leos is the six year old boy who was killed during a road rage shooting on the fifty five Freeway in Orange County California
We are confirming the arrest of the two suspects believed responsible for the shooting death of 6-year-old Aiden Leos. Marcus Anthony Eriz, 24, and Wynne Lee, 23, were arrested at their home in Costa Mesa.

— CHP Santa Ana (@CHPSantaAna) June 7, 2021
The day after the two were arrested the police pulled the white Volkswagen sedan, which belongs to
Wynne Lee's parents
, from the garage of a relative of Marcus Anthony Eriz. There is no indication that
the relative
, who neighbors say is a grandmother, is involved.
Although there is no indication that the grandmother knew what was going on with her hellbound grandson, it wouldn't be a surprise if another relative of either Marcus Anthony Eriz or Wynne Lee looked at the $500,000 reward for information about the two hellbound suspects and decided that he or she better turn in the bad man and bad woman to the police.
For their part, the police aren't telling who did the right thing by turning the two in. And that's ok because the most important thing is that those two are off the streets.
Marcus Anthony Eriz and his gal pal, Wynne Lee
, are being held in an Orange County Jail on a $1 million bond. The charges against the two are expected to be filed, today, in Orange County Superior Court.
Orange County District Attorney Todd Spitzer
decided to wait to file the charges against the two because he wants to make sure the state can successfully prove to a jury that Wynne Lee had the same intent of murder as Marcus Anthony Eriz who the police believe is the one who killed Aiden Leos.
"We have to prove the same kind of knowledge and intent by the driver as we do with respect to the actual shooter. Clearly that's a bigger hill for us to climb with respect to the driver," is what KTLA quoted
DA Todd Spitzer
as saying.
Aiden Leos was a kindergartner at Calvary Chapel Yorba Linda and he had just turned 6 years old when he was killed by 24-year-old Marcus Anthony Eriz.
Aiden Leos' mother, Joanna Cloonan, is a single parent who was raising lil' Aiden and his big sister, Alexis Cloonan, on her own.
During his funeral, Joanna Cloonan spoke about how full of life lil' Aiden was and how he would always greet everyone he met with a big, bright smile and say, "Hi, my name is Aiden!"
More
Stories
comments powered by

Disqus