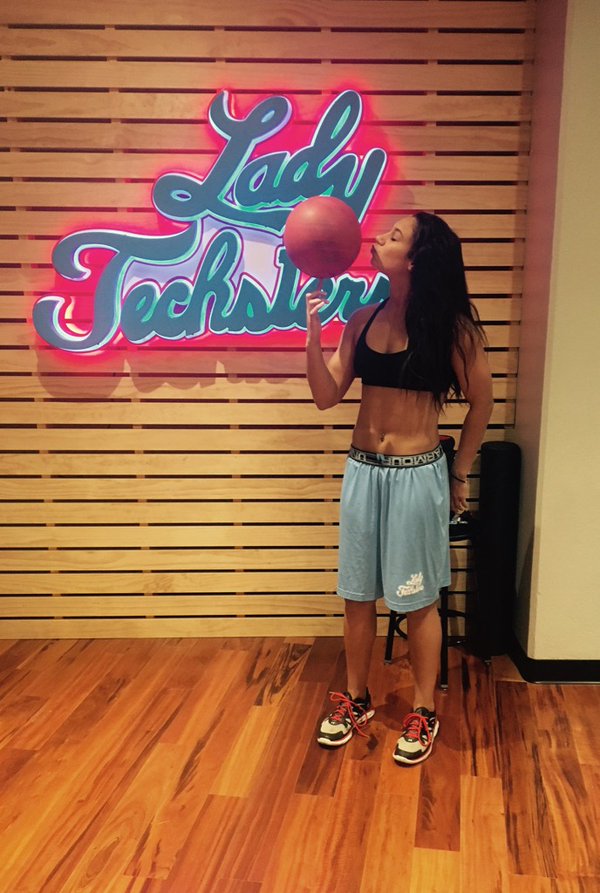 Ashley Santos' Twitter photo
It's not often you hear a
woman say she isn't the
baby's mama
by Nathan'ette Burdine: April 26, 2016
Tweet
It's not often that you hear a woman say, "I'm not the baby's mama." And this is due to the fact that it's difficult for a woman to deny that she is the mother to the baby she has given birth to.
However, there are rare cases whereby a woman must say if she is indeed the baby's mama. And one of those rare cases showed up on twitter during the last week of March.
Ashley Santos, who plays basketball for the Louisiana Tech Lady Techsters,
tweeted
a photo of herself in basketball shorts and a sports bra in order to show everyone that she's not her former coach's, Tyler Summitt, baby's mama.
Santos' tweet says
, "Rumors squashed. Don't talk about what you don't know. #notprego #LetsMoveOn #LadyTechsterTerritory."
Santos found herself in the middle of this mess because of her connection to Summitt and the alleged baby mama, Brooklyn Pumroy.
Shelly@HeyShellyRenee tweeted, "This #TylerSummitt #BrookePumroyScandal goes way back! Crazy! Tyler was Asst coach at Marquette."
Pumroy and Santos
played at Marquette University during the two years that Summitt, who's the son of legendary basketball coach Pat Summitt, was the team's assistant coach.
After leaving Marquette to take the head coaching job at Louisiana Tech, Summit recruited Santos and Pumroy.
The first sign of how close Summit is to Pumroy became obvious after the team issued a press release about Santos and Pumroy's joining the team."
Summitt
is quoted in the press release as saying, "Brooke and I have been developing a relationship for almost four years now."
Unfortunately for the both of them, the relationship they developed has left them in a hot mess. Pumroy is rumored to be Summit's baby's mama, while
Summitt
has been left "profoundly disappointed in" himself and unemployed.
comments powered by

Disqus