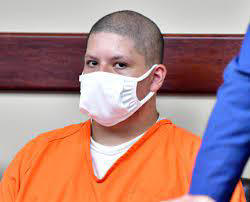 Joseph Jimenez sitting in an orange jumpsuit during a court appearance
Joseph Jimenez will be charged with
first degree murder in Anthony Barajas'
death
by Nathan'ette Burdine: August 1, 2021
Tweet
The death of
19-year-old Anthony Barajas
ensures that the charge of first-degree murder will be added to 20-year-old Joseph Jimenez's case which has one count of first degree murder, attempted murder, and robbery.
19-year-old Anthony Barajas
, who is a TikTok star with more than 960,000 followers, and his friend Rylee Goodrich went, on Monday, to see The Forever Purge at a movie theatre in the Regal Edwards Corona Crossings Shopping Mall in Corona, California.
Joseph Jimenez, who also had a ticket to see The Forever Purge, walked into the theatre, pulled out a gun and shot and killed 18-year-old Rylee Goodrich and then shot 19-year-old Anthony Barajas in the head and stole his wallet.
Rylee Goodrich died on the scene. Anthony Barajas was rushed to the hospital and placed on life support. Due to the bullet wound to his head being too extensive for the doctors to repair, the young man was taken off life support on Saturday.
Thanks to the help of some good decent folks who know the alleged 20-year-old thief and killer, the police were able to track down
Joseph Jimenez
, in less than 24 hours, at his RV trailer.
Upon arriving at his residence, the
police found all the evidence (the gun used and Anthony Barajas' wallet)
the DA needs to convince a jury that Joseph Jimenez needs to breathe God's good fresh air in a prison cell until the time comes for the devil to call him home.
A person would think that a "human" like Joseph Jimenez would at least proclaim his innocence but no. On Friday during an appearance before a Riverside County Superior Court judge,
Joseph Jimenez
exercised his Fifth Amendment right to remain as silent as his future tomb as to why he thinks it is a good idea to have violated 18-year-old Rylee Goodrich's and 19-year-old Anthony Barajas's Fourteenth Amendment rights to life, liberty, and property.
And to be honest with y'all, it doesn't matter what Joseph Jimenez says because the punishment he will face on this side of life is kids play compared to what Lucifer and Mazikeen have in store for him in hell.
Oh yes, it's true, folks, that violating the Fifth (Thou shalt not kill) and Seventh (Thou shalt not steal) Commandments means a body will forever be lying down on a bed of nails in hell.
More
Stories
comments powered by

Disqus