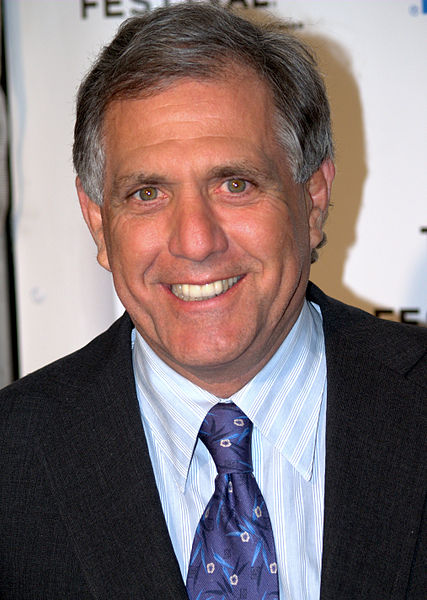 David Shankbone's photo CC BY 3.0
Les Moonves steps down as the
CEO of CBS after six more women
accuse him of sexual harassment
by Nathan'ette Burdine: September 9, 2018
Tweet
HE GONE! Les Moonves is stepping down as the CEO of CBS after six more women come out and accuse of him sexual harassment.
The CNNers were the first to report that Moonves is putting on his walking shoes and walking out of CBS' door.
Les Moonves, of course, denies he's leaving his bread 'n' butter due to the
Roonan Farrow's article
, "As Leslie Moonves Negotiates His Exit From CBS, Women Raise New Assault And Harassment Claims," that was published today in
The New Yorker
.
The women folks' stories range from Moonves pushing them against a wall and then driving his tongue down their throats to Moonves parking in isolated areas where he forced them to give him head.
Moonves
whined that none of that is true and that he's like Chucky, "The Good Guy:" "The appalling accusations in this article are untrue.
What is true is that I had consensual relations with three of the women some 25 years ago before I came to CBS.
And I have never used my position to hinder the advancement or careers of women."
But ain't nobody taking that denial for free! Moonves fixing his pen to write that he "had consensual relations with three of the women" while saying nothing about the other three women, ain't nothing but admission of guilt.
Moonves can't go around here saying, "I was in a relationship with three of them.
But the other ones, I wanna talk about that," and think we all just fell off of a turnip truck and will buy anything flying out of his mouth.
Plus, the ol' "consensual relationship" excuse works none of the time; especially when a person fails to answer questions about the other women folks accusing him of sexual harassment who he was not in a relationship with.
Moonves can't convince folks that he didn't do what 12 women now are accusing him of doing. He's in the entertainment business.
And everybody knows the entertainment business is a cesspool filled with nasty devils who've been accused of doing what Moonves is being accused of doing.
What did nasty Harvey Weinstein lawyer, Benjamin Brafman, say, "Mr. Weinstein did not invent the casting couch in Hollywood."
Mm-hmm, we all know what that means. Like Weinstein, Moonves expected the women folks to get on that "casting couch" and open their mouths and spread their legs.
And those who refused soon found out that close mouths and legs don't get feed.
All of the women who accused Moonves of sexually harassing and or assaulting them expressed fear of losing their income.
One of Moonves accusers,
Deborah Green
, told Ronan Farrow that after Moonves grabbed her and did a tongue dive down her throat, she pushed him up against a wall; which lead to him tucking his tail and running and hiding in the bathroom.
Green said she talked to her daddy about it but ultimately decided that it was best to keep quiet. "I didn't want my livelihood to be jeopardize," is what
Green
said to Farrow.
Luckily for
Green
, she was able to keep her bread 'n' butter because CBS just moved her over to the
Bold and the Beautiful
,
As The World Turns
,
Young & The Restless
, soap opera department.
Phyllis Golden-Gottlieb, however, wasn't as lucky. Golden-Gottlieb found herself without a job after she stopped Moonves from trying to push-up on her.
Golden-Gottlieb
told Farrow that Moonves thought he owned her "pocket book" after he drove her to an isolated area and forced her to give him head.
Golden-Gottlieb
said the alleged incident was so disgusting that she threw up after she went home.
Like the other women who've accused Moonves of being a serial sexual harasser and assaulter,
Golden-Gottlieb
didn't report the incident to the police or Moonves' bosses because she was afraid that she would lose her income.
Golden-Gottlieb
did eventually build up the courage to report the incident.
But due to the statute of limitations, the
LAPD
will not file charges against Moonves.
Farrow did say that "law enforcement sources" believe Golden-Gottlieb.
Are y'all thinking about Bill Cosby?!
Former Montgomery County DA Bruce Castor
said he and his investigators believe Andrea Constand's story about Bill Cosby of drugging and raping her, but that they didn't have enough evidence to file the charges.
Yup, when a prosecutor or someone in the law enforcement community says they believe what a victim is saying to him about an alleged assailant who has a trail of victims, it's a 100% chance the alleged assailant is guilty.
That's why the folks on
CBS board
have decided that it's best to donate $20 million, from that $100 million severance package Moonves suppose to get, to organizations that deal with sexual harassment and assault.
Oh yeah, before I forget. It wasn't until several months later that
"Moonves
told the board about the LAPD's investigation into Golden-Gottlieb's claims against him.
That there plus all these women accusing Moonves of stealing their stuff and having to spend millions of dollars investigated allegations about Moonves stealing stuff just didn't sit to well with the folks who sit on CBS' board. Oh well, sucks for him!
comments powered by

Disqus