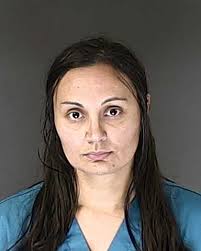 Leticia Stauch jail photo
Letecia Stauch will represent herself
in murder trial
by Nathan'ette Burdine: February 26, 2021
Tweet
"Show me a person who represents herself in a court of law and I'll show you a fool."
Today, alleged murderess Letecia Stauch has decided to be that "fool."
Letecia Stauch
stood before Judge Gregory Werner and told him that she has "a constitutional right" to defend herself and that she's smart enough to exercise her "constitutional right" to do what her court appointed lawyers can do.
"It might sound audacious, but I'm really good at poker, and you know that saying 'You got to know when to hold them and when to fold them?' I've got the winning hand…an ace in the hole," is what she said.
A "winning hand" is what
Letecia Stauch
doesn't have. The fact that the state of Florida found 11-year-old Gannon Stauch's dead body buried in a hole in Santa Rosa County, Florida, with all of the death blow marks that Letecia Stauch inflicted upon his body when she was busy killing him, allegedly, in his bedroom in El Paso County, Colorado, says she's up the creek without a paddle.
Therefore, she's not getting that "ace in the hole." And any window that may have been left open for her to get a new trial was closed due to the court recognizing her Fifth and Fourteenth Amendment rights to due process and her right to an attorney under the Sixth Amendment.
Yup, all of the due process stuff was settle when the court let her get her head check several times and the whole thing with having a lawyer was satisfied with the Arguello advisement that was held today.
And due to the fact that Judge Gregory Werner ain't new to this whole judge thing, he went ahead and appointed her a lawyer to assist in her case because he knows she and whoever will be her next lawyer during her appeal will use the darts and the bag in the hopes that one or both will stick to the board. So yeah, Letecia Stauch is goose liver.
Letecia Stauch faces a slew of charges that include felony murder, murder of a child under12 years of age, messing with evidence, and eight counts of other violent crimes.
Letecia Stauch's
next court hearing will be held on March 11 and 12. During those two days, the
judge
will determine if the prosecution has enough evidence to send the case to trial.
More
Stories
comments powered by

Disqus