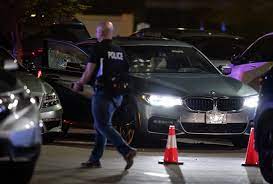 Shooting of three Brothers Keepers gangsters outside Cactus Club Cafe in Burnaby
Lower Mainland gang war continues
with two Brothers Keepers gangsters
getting shot and one getting killed
outside the Cactus Club Cafe in Burnaby
by Nathan'ette Burdine: May 15, 2021
Tweet
Yesterday, around 8:30 at night,
the Lower Mainland gang war continued with two Brothers Keepers gangsters getting shot and one getting killed
outside the Cactus Club Café which is located in the Market Crossing mall in Burnaby.
The police identified the man who was killed as 23-year-old Jaskeert Kalkat. Prior to his death,
Jaskeert Kalkat
had two convictions, in a two-year time period, for assault. The first assault conviction came in 2017 and the second assault conviction came in 2019.
Jaskeert Kalkat
was on probation for the 2019 assault conviction when he was gunned down outside the Cactus Club Café.
Due to the sensitivity surrounding the case and the ongoing gang violence, the police are not identifying the man and woman who were shot.
There is, however, information circulating online about the
woman's past employment with the Royal Canadian Mounted Police (RCMP)
and
her aspirations of being a Sports Illustrated and Playboy model
.
How the woman allegedly went from working with the police, to being a part of the thug life, and wanting to be a model is, I'm sure, a mystery to those who know her.
Come to think of it, a relative of hers who is currently employed with the RCMP told the
Vancouver Sun folks
that he or she has tried, to no avail, to get the woman to let go of the thug life.
Welp, she and another man are all shot up, now, and laid up in a hospital bed in Burnaby all because they won't let the thug life go. And Jaskeert Kalkat is laid up, in a freezer in a morgue, dead, and naked with a toe tag on his 23-year-old toe all because he wouldn't let the thug life go.
The thug life is bad because it can put a quick end to a person's young life. And folks, that ain't good for young folks to be dying. We ain't even halfway through 2021, yet, and thug life has claimed 19 young folks, gangsters and non-gangsters, throughout British Columbia.
And yes, folks, 46-year-old United Nations gangster Todd Gouwenberg, who was killed outside Langley Sportsplex in Metro Vancouver, is included in the young folk group because somebody in his 40s ain't got no business dying from anything. Nowadays, people are dying in their 90s not their 40s. It's 2021, not 1202 when a 40-year-old was considered a senior citizen. Therefore, anybody who hasn't hit 50, yet, is considered young folk.
Now, back on point, the police believe the shootings and killing are in retaliation for United Nations gangster Karman Grewal's death; which occurred early Sunday afternoon, on Mother's Day, around 3PM outside of the Vancouver International Airport.
The police also believe that Karman Grewal's death was in retaliation for Harb Dhaliwal's death; which occurred on Saturday night, April 17, 2021, a little after 8:30 at night outside of Cardero's restaurant in Coal Harbour.
Right now, all of y'all are asking yourselves, "Why are these young people killing each other." The answer to that question are several factors that include everything from
past beef, new alliances, to turf wars over drugs
. At least, that is what
Royal Canadian Mounted Police (RCMP) Assistant Commissioner/head of Combined Forces Special Enforcement Unit (CFSEU) Manny Mann
told The Canadian Press folks whose article was posted in the Surrey Now-Leader.
"Contributing factors to this include the connection to past conflicts and incidents, new and quickly changing alliances, family connections, competition over drug lines, backstabbing and debt collection," is what The Canadian Press quoted Mann as saying.
The gangs' "We don't give a f&%#" attitude and just shoot em up bang, bang anywhere and anytime they can just shoot em up bang, bang has caused the police to give their undivided attention to the gangs.
Folks, it's not going to be pretty. The
law
is coming at the gangs with all units, full force, which include the local police, the Royal Canadian Mounted Police (RCMP), the Integrated Homicide Investigation Team (IHIT), and the Combined Forces Special Enforcement Unite of British Columbia (CFSEU-BC) to smoother all of that hell fire the rival gangs have raised.
"Every police agency-the RCMP, municipal police, the Integrated Homicide Investigation Team and the Combined Forces Special Enforcement Unite of B.C.-are all working together bringing all the tools they have available to deal with this scourge. It is their No.1 priority," is what
B.C. Public Safety Minister Mike Farnworth told the CBC folks
.
The one thing that's for sho' is that the gangs are going to learn the hard way why you can't expect folks to not put out all of that hell fire that you done raised.
More
Stories
comments powered by

Disqus