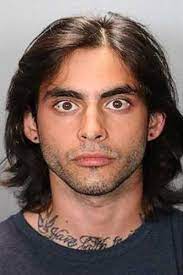 Fatal 55 Freeway Shooting Suspect Marcus Anthony Eriz
Marcus Anthony Eriz has been
charged with murder in the fatal
Freeway shooting death of Aiden Leos
by Nathan'ette Burdine: June 8, 2021
Tweet
Marcus Anthoney Eriz
learned today that he will have to stand before a jury of his peers as they sit and listen to the state argue why he should be found guilty of the murder of 6-year-old Aiden Leos who was killed, during a road rage incident, on May 21, 2021, on his way to kindergarten at Calvary Chapel Yorba Linda.
Related: Aiden Leos is the six year old boy who was killed during a road rage shooting on the fifty five Freeway in Orange County California
As for Marcus Anthony Eriz's girlfriend,
Wynne Lee
, she's been charged with helping to cover up the crime after it was committed and not having the proper paper work to walk around with a concealed weapon on her person.
"I do want to promise today…that we will get justice for him. We have to promise him that," is what the
KTLA folks quoted Orange County District Attorney Todd Spitzer
as saying during a press conference yesterday.
24-year-old Marcus Anthony Eriz
is looking at 40 years to life in prison, whereas his 23-year-old girlfriend Wynne Lee is looking at four years behind bars with 1 year in county and the other 3 in state.
The reason Wynne Lee lucked up and got a lighter sentence is due to the fact that
DA Todd Spitzer
couldn't find a way to convince a jury beyond a reasonable doubt that Wynne Lee being the driver of the car is enough to brand her, like her boyfriend, with the letter "M" on her forehead.
Personally, it makes sense why she should be spending the rest of her life as Big Deborah's "friend." Wynne Lee's behavior showed that she, like her "man," intended on killing someone. She didn't try to stop Marcus Anthony Eriz when he pulled the gun out and she didn't go to the police immediately after it happened. Instead, she and her man continued living what they had so viciously ripped away from 6-year-old Aiden Leos whose body is buried in a casket in the ground and is not up running around on a playground.
Folks, I'ma just be honest with, ya'll. If it were up to me, Wynne Lee would never be free. I know
she got issues and she ain't right in her head and whatnot
but that ain't an excuse to let her go free after she gave a mother the issue of having to deal with the fact that her 6-year-old child is dead.
Four years in our "human zoo" is just not enough time for her to serve for that crime. The law is the law, though, and all the rest of us can do is what those two Homo sapiens didn't do which is to respect the law.
Marcus Anthony Eriz and Wynne Lee are currently sitting in an Orange County Jail on a $1 million bond each.
Related: Fatal Freeway shooting suspects Marcus Anthony Eriz and Wynne Lee are being held on a one million dollar bond
The two were arrested on Sunday at their home in Costa Mesa. And the car, which belongs to
Wynne Lee's parents
, the two used during the commission of their deadly crime was towed away on Monday from Marcus Anthony Eriz's grandmother's house in Whittier.
Related: A relative's garage is where Marcus Anthony Eriz hid the vehicle involved in the fatal Freeway shooting
Due to the fact that
the grandmother
has been gone away on a long vacation, the police don't believe she had any involvement in her grandson's decision to stash his girlfriend's parent's white Volkswagen sedan away in his grandmother's garage.
The police also don't believe that
Wynne Lee's parents
knew anything about the two's deadly road rage shooting that left 6-year-old Aiden Leos' mother, Joanna Cloonan, without her child.
More
Stories
comments powered by

Disqus