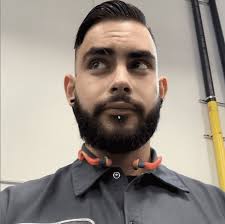 Marcus Anthony Eriz 55 Freeway Road Rage Shooter
Marcus Anthony Eriz hid the car after
a coworker told him it looked like the
vehicle involved in the deadly
Freeway shooting
by Nathan'ette Burdine: June 23, 2021
Tweet
Seven days after Marcus Anthony Eriz killed 6-year-old Aiden Leos during a road rage incident on the 55 Freeway in Orange County, California,
Marcus Anthony Eriz's co-worker
told him that his vehicle looked like the white Volkswagen sedan that the police were looking for.
The co-worker's words caused Marcus Anthony Eriz to have that uh-oh feeling that obviously guilty criminals get whenever they are caught doing wrong.
In an effort to hide his wrong of killing Aiden Leos, Marcus Anthony Eriz decided he better hide the car and himself.
He hid the car in a relative's garage, cut his beard, and then
pulled his hair back
into a bow.
All of that hiding, however, didn't stop the police from finding him or his gal pal Wynne Lee who drove the car during the deadly shooting of 6-year-old Aiden Leos on the 55 Freeway.
The police arrested the two who have since been charged in connection with Aiden Leos' death. Wynne Lee was charged with helping to cover up the crime before and after the fact and not having the proper legal paperwork to have a gun in her possession.
Her bail was set at $1 million, but the prosecuting attorney has since asked the court to lower it to $500,000.
Orange County Superior Court Judge Larry Yellin
told everybody that he's going to wait until the psych evaluation on Wynne Lee, who has a history of psychological problems, comes back before he decides what her bail will be.
Marcus Anthony Eriz has been charged with murder and his bail was also set at $1million. During the bail hearing, the prosecuting attorney informed the court that the following week after the deadly 55 Freeway shooting, Wynne Lee and Marcus Anthony Eriz were involved in another road rage incident in which he pulled out a gun.
The Tesla driver was able to live another day due to his or her telling Marcus Anthony Eriz that he or she was going to call the police.
Scared and afraid that the man or woman would call the police who would have certainly put one and one together to get two, Wynne Lee and Marcus Anthony Eriz kept on trucking down the road pass a memorial for 6-year-old Aiden Leos and a banner that according to the
KTLA folks
read "Who shot Aiden?," to their job where the co-worker had told Marcus Anthony Eriz that the white Volkswagen sedan made him look like suspect number one.
After hearing about the similar incident involving the Tesla following the week after the deadly 55 Freeway shooting,
Judge Larry Yellin
decided that Marcus Anthony Eriz was too great a threat to the community to let him get bail and possibly be back on the street.
Therefore,
Judge Larry Yellin
denied bail to Marcus Anthony Eriz. "It seems to me that Mr. Eriz is a complete danger to the community," is what the
KTLA folks quoted Judge Larry Yellin
as saying.
Wynne Lee is facing a total of 4 years imprisonment and Marcus Anthony Eriz is facing 40 years to life in prison.
They both pleaded not guilty to what their actions, the car, and the bullet ballistic tests says they're both guilty of which is Aiden Leos's life sentence of forever being six years old.
More
Stories
comments powered by

Disqus