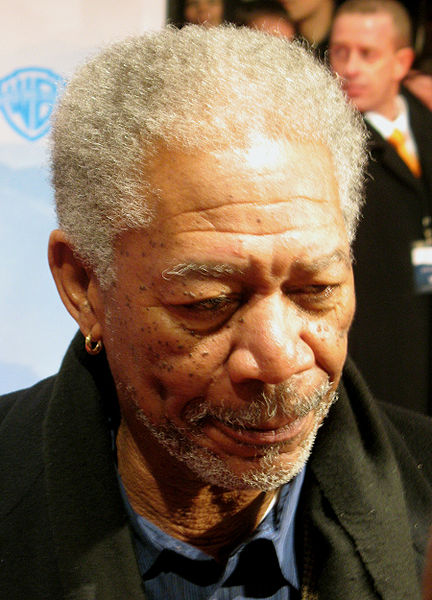 Franz Richter's photo CC BY-SA 2.0
Morgan Freeman told a woman not
to pull her skirt down, allegedly
by Nathan'ette Burdine: May 25, 2018
Tweet
Well, well, well it looks like Morgan Freeman won't be going in style anywhere for too long after being accuse of being a serial sexual harasser.
Yesterday during a sit down with CNN's Brooke Baldwin, entertainment reporters Chloe Melas and An Phung spoke about the sexual harassment allegations against actor Morgan Freeman.
Chloe Melas said that Morgan Freeman told Tyra Martin, a producer at WGN in Chicago, "not to pull her skirt down as she stood up to leave the interview."
According to Melas, Martin interviewed Freeman over 10 years and that during that time he "always consistently made sexual comments to her" but that last comment Freeman allegedly made about her leaving her skirt up so he could look at her "pie" was just too much for Martin to take.
So, she said deuces and decided she wasn't dealing with that any more. Melas said that she believed Martin because of her own experiences with Freeman.
During a promotion for the movie
Going in Style
, Melas said that Freeman looked her up and down and said he "wished he were there" when she got pregnant.
A video of some of the exchange was shown on CNN and Michael Caine could be seen giving Morgan Freeman the side eye.
Melas told Baldwin that "there were comments that were sexual in nature made before and after this one but they weren't caught on camera."
Melas reached out to Freeman's co-stars Alan Arkin and Michael Caine but they would not comment.
Entertainment reporter An Phung recounted an experience of a woman who worked with Freeman.
A woman alleged that Freeman approached her on set and asked her opinion about sexual harassment.
According to Phung, when the woman became visibly uncomfortable with the question Freeman turned to others on the set and said, "See guys, this is how you do it."
Basically, the best way to shut these women folks mouths is to question them in front of a crowd of folks about what they are saying about you that may be true but that you don't want folks to know are true.
This news isn't new about Freeman being an alleged nasty ol' devil.
Freeman
has been accused of having a sexual relationship with his step-granddaughter, E'Dena Hines, who was more than 40 years he's junior.
In 2015,
E'Dena Hines
was killed by her boyfriend, Lamar Davenport, who reportedly confirmed the rumors about Hines and Freeman.
The National Enquirer was the first to tell folks about Freeman and his alleged relationship with his step-granddaughter Hines.
Of course he denies it. But the truth is in the pudding and that pudding isn't looking too good for him. Nasty ol' devil.
comments powered by

Disqus