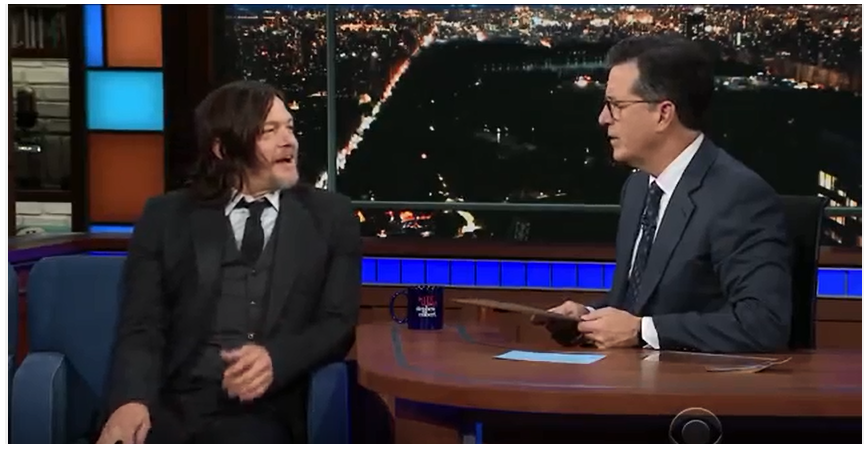 Norman Reedus Late Show with Stephen Colbert YouTube Screenshot
Norman Reedus says his southern
food will sober a drunk person right
on up
by Nathan'ette Burdine: November 9, 2017
Tweet
The Walking Dead's Norman Reedus, aka Daryl Dixon, stopped by Stephen Colbert late last night to talk about his restaurant down in Georgia and his show Ride with Norman Reedus on AMC.
Norman Reedus told Stephen Colbert that he and Greg Nicotero, a director and producer on The Walking Dead, have a restaurant called Nic and Norman's located in Senoia, Georgia.
"Southern feel good food" is what Reedus says they serve; "good food" like black bean burger, blue cheese burger, all the good stuff.
In fact, Reedus said the food is so "southern feel good" that it will "sober" you and your family right on up.
"Like if your whole family got drunk and went there and needed like sobering food it would be like that," is what Reedus told Colbert.
Reedus also talked about his AMC show Ride. Don't worry, you don't have to be famous in order to be on the show but you do need to know how to ride a motorcycle.
Colbert says he can ride a mini bike but his wife "won't let him." Yeah, the wife is why ol' Colbert there can't make an appearance on the show.
Check out the video below of Norma Reedus chit-chatting it up with Stephen Colbert.
comments powered by

Disqus