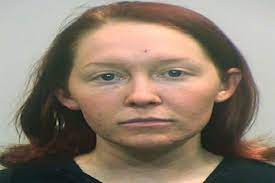 Madison McDonald
North Texas woman Madison McDonald
says she killed her children in order "to
protect them" from abuse
by Nathan'ette Burdine: April 8, 2021
Tweet
On the night of April 5th 2021,
a 30-year-old North Texas woman, named Madison McDonald,
walked into the lobby of the Irving Police Station, with documents and baby blankets in her hands, picked up the phone, called 911, and told the dispatch that she had given her two daughters a sedative and then she eliminated them via smothering.
The police went racing down the road, with red and blue lights a flashing, to the apartment complex where
Madison McDonald
and her two daughters lived and found the two little girls dead.
Upon questioning,
Madison McDonald
told the Irving police that she was so concerned about her 1-year-old daughter and 6-year-old daughter "being abused" in this life that she decided the best way "to protect them" was by "eliminating them" out of this life.
The police, though, aren't taking Madison McDonald at her word that she just got up and decided that killing her children was the best way to protect her them.
The police believe there's more going on there because the one thing they know is that folks don't just walk into their lobby with documents and two baby blankets, pick up a phone, dial 911, and tell the dispatch that they have just killed their children.
That there is just not an everyday thing the police sees; especially not from a
mother
who has no criminal record.
And although there is one recorded visit of the police and Child Protective Services going to
Madison McDonald's apartment
before she killed her two daughters, nobody on the law side is saying they'll be the first to throw the book at her.
The law is taking the position that Madison McDonald is a mother who has an unbreakable bond with her daughters that goes all the way back to utero.
Therefore, the police know there is a possibility that Madison McDonald wasn't in her right mind when she decided the best way to protect her children from harm was by causing them harm.
"All I can keep encouraging people is if you know someone that's going through a situation don't choose to not get involved. Choose to be that advocate for that victim. Contact your local police department and let them at least come out and assess the situation and figure out if someone's in danger," is what
Irving Police Officer Robert Reeves
told the FOX 4 folks.
Madison McDonald's lawyers will argue that due to their client not being in her right mind when she did the wrong thing, she shouldn't have to face the possibility of having
a schedule date with Ol' Man Death due to the two counts of capital murder
she faces.
As evidence of Madison McDonald not being in her right mind when she killed her children, the defense will more than likely use her own actions, on the night of April 5th 2021, of her walking into the Irving Police Station to report a crime of her own wrong doing.
A question the court will definitely have to answer is would a person in her right mind bring evidence of her crime to the police station.
A recent case that can add more weight to the defense's insanity argument is that of
Sofya Tsygankova
.
Like Madison McDonald,
Sofya Tsygankova
is a young mother who was charged with capital murder for the deaths of her 1-year-old and 5-year-old daughters.
Sofya Tsygankova's lawyers
argued that her mental illness, which began when she was a teenager, and her divorce from her husband Vadym Kholodenko, who is an internationally known pianist from Ukraine, led to her having a mental break down which caused her to suffocate her two daughters to death and her to attempt suicide.
The judge, the prosecutor, and the defense all agreed that the evidence showed that
Sofya Tsygankova's mental illness and her divorce from her husband
caused her to have a break from reality so to the point that she did the one thing that she never would have done, which is to kill her children, if she were right in her mind.
"The law as given to us is that if someone by reason of mental disease or defect doesn't know their conduct is wrong at the time of the offense they cannot be prosecuted. If that's the law given by the legislature then what was done her today was justice," is what the
FOX 4 folks
quoted
Tarrant County District Attorney Dale Smith, who is also one of three deputy chiefs in the Criminal Division
, as saying.
All the facts are not yet known in Madison McDonald's case. However, what is known is that Madison McDonald is a young mother, like Sofya Tsygankova, who thought that killing her children was the best way to protect them.
And like Sofya Tsygankova, the fact that Madison McDonald continued having the motherly instinct to protect her children from harm is a key indicator that something was going on in she and her children lives that caused her such great fear to the point that she believed that killing her children was the best way to keep them safe from harm.
More
Stories
comments powered by

Disqus