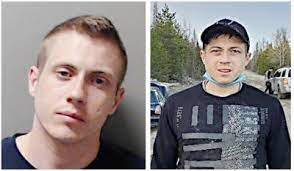 Anthony James Graham
Prince George RCMP did not tell
the public about missing person
Anthony James Graham's murder
charges and association with
drug dealers
by Nathan'ette Burdine: November 6, 2021
Tweet
Sorry, is what the
Prince George Royal Canadian Mounted Police (RCMP)
are saying to the residents of Prince George after sending out a missing persons alert on 35-year-old Anthony James Graham who is wanted for two murders that the police believe are link to the wider drug trade business in British Columbia.
The
police
knew, back in June, that Anthony James Graham shot and killed the Fryer brothers, Carlos and Erick. According to the
Vancouver Sun
folks, the police told the public that Graham "should be considered armed and dangerous. If you see him do not approach and immediately call 911."
Prince George RCMP Spokeswoman Cpl. Jennifer Cooper
told the Vancouver Sun folks that they sincerely apologize for the mistake of identifying Anthony James Graham as a missing angel and that they are glad that no one cross paths with him.
Back on the 10th of June, the
police
placed silver bracelets on the wrists of a fella name Wade Cudmore due to his involvement, along with Anthony James Graham, in the deaths of the two Fryer brothers.
About two weeks after the Fryer brothers were shot and killed,
Wade Cudmore's
mother, 57-year-old Kathy Richardson, was found dead, inside her home on the 9th of June.
As for Graham, you can't miss him once you see him.
Anthony James Graham
stands at six feet, weighs 190, and he has blue eyes and light brown hair.
The
police
have ask his family for help locating him, but they can't help much due to the fact that they haven't set eyes on him since May of this year. And what happen in May of this year?! The killing of the Fryer brothers is what happen in May of this year.
So yeah, Anthony James Graham's goose is cook.
More
Stories
comments powered by

Disqus