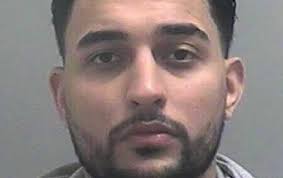 Red Scorpion gangster Gary Kang
Red Scorpion gangster Gary Kang
followed the gangster code of
snitches get stitches when police
asked who shot him and his brother
by Nathan'ette Burdine: November 21, 2022
Tweet
Red Scorpion Gangster Gary Kang
holding steadfast to the "snitches get stitches" rule didn't stop the police from arresting the young man, 22-year-old Tyrel Nguyen Quesnelle, who shot him and then killed his brother, Randy Kang, during a drug deal back on the 27th of October 2017.
The
Vancouver Sun folks
quoted Royal Canadian Mounted Police (RCMP) Constable Richard Van leersum as saying to British Columbia (B.C.) Supreme Court Justice Miriam Cooper about the shooting, "He made it very clear to me that he didn't want to cooperate or talk to me about what happened. He denied any knowledge of the people who may have been responsible for the attack or what their motives were."
Fortunately for the police, they didn't have to do much leg work to find the Kang's shooter because
the shooter
, 22-year-old Tyrel Nguyen Quesnelle, snitched on himself.
Quesnelle
, who during that time was criminally employed as a hitman/rapper, told on himself in a rap song and to an informant, named AB, who taped their conversations.
Quesnelle's DNA and fingerprints
also helped the police to ID him as their suspect.
Due to the 22-year-old young man providing the police with the evidence they needed to ID him as the shooter, the
police took a little over 2 years
to arrest him and then throw him in jail where he will become an old man.
As for Gary Kang, welp, things didn't turn out too hot for him. Back in January of last year, around five o'clock in the morning,
Gary Kang
was shot down in his parents' home. Unlike his brother's killer, Gary Kang's killer has not told on himself or herself.
Truth be told, it doesn't matter whether Gary Kang's killer snitches on himself because the police are going to find him or her with either his or her help, or the help of someone else.
The police always get their man…or woman.
More
Stories
comments powered by

Disqus