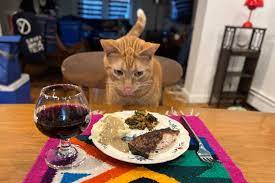 Lisa Farbestein's Twitter photo of Smells the Checked Bag Cat
Smells the Checked Bag Cat
had the best Thanksgiving ever
by Nathan'ette Burdine: November 29, 2022
Tweet
Smells the Checked Bag Cat is having himself the best Thanksgiving ever! Oh, just look at him with his perky ears, lil' whiskers, cute lil' eyes, and tail up high!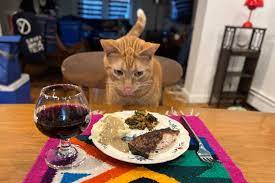 Like the king he is, Smells is at the head of the table, standing in a chair, staring at the feast his human placed before him. Mash potatoes overflowing with gravy, turkey, and dressing are all neatly section off on a decorative plate for Smells to see. There's wine and of course a fork so his human can feed him like the royalty he is.
Smells the Checked Bag Cat
first caught everyone's attention after he went on a little adventure that came to a halt at JFK International Airport in New York City.
TSA agents saw
King Smell's
lil' orange hairs sticking out of a suitcase that he had stowed himself away in. The
human
who owned the suitcase was headed to Orlando to see Mickey and Minnie. He told the TSA Agents that
King Smells
is his roommate's cat and that he hadn't the foggiest idea about how the king managed to wiggle himself unnoticed into his suitcase.
After checking out
the human's story
, the TSA agents decided to let him go on down to Mickey and Minnie's house and they sent King Smells back to his human.
King Smells wasn't too happy because he had plans to hitch a ride down to Busch Gardens to talk to Simba's cousin, Taj, about the family meeting to renovate Pride Rock.
Seeing that King Smells was feeling blue, his human did the only thing she could do which is to treat him like a king. And treat him like a king she did by providing him with the best Thanksgiving feast, ever!
More
Stories
comments powered by

Disqus