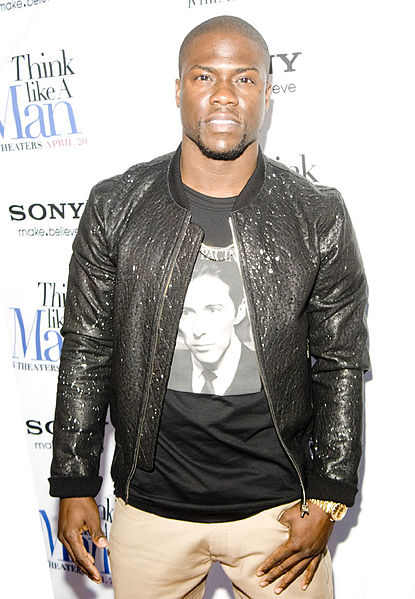 Kevin Hart Adam Bielawski's photo CC BY-SA 2.0
Someone tried using Kevin
Hart's name in order to get
money through a fake charity
by Nathan'ette Burdine: November 29, 2017
Tweet
Somebody was trying to use comedian Kevin Hart's name in order to get some money.
A young lady named
Denise Vogelaar
contacted Kevin Hart via Twitter and asked him if he was trying to get money for military families and orphans.
Hart
simply responded, "That's not me....SMDH." It's understandable why Vogelaar had her doubts. The person posing as Hart sent up several red flags. The first being the cause he was donating to. The person told
Vogelaar
that he was donating to DEAD US Armies and other orphans. As many of y'all know, there are no "DEAD US Armies."
The US Army is functioning just fine. Then there's the whole bit about winning $100,000 in raffle promotion and raw gold.
Now, it doesn't take a genius to figure out that Hart isn't giving out $100,000 in raffle promotions or gold bars.
And I doubt very seriously Hart even invest in gold. Hart is rich, but he's not wealthy. Gold is something that wealthy folks like Bill Gates, Warren Buffet, and first world countries invest in. Basically, gold is one of those commodities that is not going to be handed out like a piece of candy at anybody's concert.
Another red flag that this fella who was portraying Hart sent up was the fact that he couldn't provide any proof that he is indeed Kevin Hart.
After Vogelaar asked him to prove his identity, this fella went off on a tangent.
He wrote back to
Vogelaar
, "Stop asking silly questions…What makes you believe this question can help you identify if its really me."
Vogelaar
hit him back and told him that if he was really Kevin Hart then he would be able to go live with his announcement and mention her name. But as we all know, you can't go live when you aren't the living person you're claiming to be.
Then there's this. The
dude
has a private Facebook page in which he has no friends. And that in and of itself is funny.
Everybody knows that Kevin Hart's social media accounts are public and that he has plenty of friends on and off line.
The fake Kevin Hart, however, is friendless. And based on his actions, I see why. The real Kevin Hart and Denise Vogelaar's tweets are below.
I know!! I did some investigating 😂😂 pic.twitter.com/RtoMkEqItK

— Denise Vogelaar (@vogelaar_denise) November 23, 2017
November 23, 2017
comments powered by

Disqus