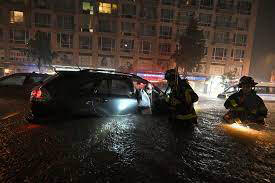 Firemen rescuing people in their cars from the flood waters
Swollen rivers, flooded streets,
tornadoes, number of dead rising
after Ida hit New York, New Jersey,
Pennsylvania, and Maryland
by Nathan'ette Burdine: September 2, 2021
Tweet
Record amounts of rain falling down and swelling the rivers so that the waters overflow into the streets turning the walk ways and roads into waterways with ocean like waves that are caused by the high winds coming from the tornadoes whisking by.
MAH (Mad As Hell) Ida and her buddy, Ol' Man Death, caused all of that ruckus after they stopped by Pennsylvania, Maryland, New York, and New Jersey with the mission of causing as much death and destruction as they can.
Just earlier today, there were a total of 18 souls that MAH Ida had given to death and now there are
a total of 26 souls
she's handed over to her ol' friend.
Undoubtedly, the number of souls being taken over the river sticks will continue rising due to the widespread damage that MAH Ida has caused.
Hm, if that ain't something. The folks on CNN's Erin Burnett Outfront just said that the number of folks who've crossed that distant shore has grown to 45. Ol' Man Death is busy, I tell ya.' He's busy.
MAH Ida and Ol' Man Death have taken a 1,500 mile journey across 22 states and the District of Columbia. During their journey, MAH Ida has blown tornado winds that uprooted trees, laid down powerlines, and rearranged cars, trucks, and houses like they were trinkets sitting on top of a dresser.
MAH Ida has also taken the time to stop and spit out all of the water back into the rivers, lakes, and oceans that she drank from.
She's spit so much water back into the rivers, lakes, and oceans that she drank from that she has caused the rivers, like the
Schuylkill River's water in Philly
, to
rise as high as it did
back on March 1, 1902. On that date, the rain soaked up the area so that it melted the snow, causing the Schuylkill River's waters to rise almost 15 feet.
All of that water that MAH Ida is spitting out has also left cities like Staten Island, New York, and Newark, New Jersey with the largest amount of rainfall not seen in over 40 years. In a day's time, Newark, New Jersey got 8.41" of rain and Staten Island, New York got 8.92" rain.
There were some folks, like the fella down there smoking and relaxing on his floatie, who didn't mind the flooding.
As a state of emergency is declared in New York City and New Jersey, this guy is another level of chill!#Ida #Hurricane #ViralVideo #Manhattan #Flash Flood Emergency #flood #Bronx #Brooklyn #nycwx #NJwx #TORNADOEMERGENCY #climate pic.twitter.com/4HvtUPKQrn

— pragiya (@ucatchpragiya) September 2, 2021
They see it as a chance to get out of the house and enjoy the scenes. Folks, don't try what that fella up there and others did because those flood waters are serious business. And you never know what you may find in them; especially if you're living in the south where snakes and gators are known to roam residential waterways after the hurricanes of chased them out of their homes. Don't do that! Unh-unh.
Take seriously the tropical depressions, storms, hurricanes, and anything else nature brings your way because if you don't they will seriously take you and hand you on over to their buddy, Ol' Man Death.
Note-The information about the amount of rain in New York and New Jersey and MAH Ida's and Ol' Man Death's journey is based on information obtained from Meteorologist Jennifer Gray who appeared on CNN Newsroom with Alisyn Camerota and Victor Blackwell on September 2, 2021.
More
Stories
comments powered by

Disqus