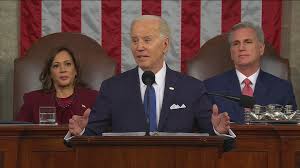 Joe Biden State of the Union Address
The Stat of the Union Address
was like a family meeting
by Nathan'ette Burdine: February 11, 2023
Tweet
Uncle Charlie (Senate Majority Leader Chuck Schumer (D-NY)) and Key Key (Speaker of the House Kevin McCarthy (R-CA)) rounded up everybody and told them to be at the house on Tuesday night, 9PM sharp, for the family meeting.

Grand-daddy had some things he wanted to talk to them about. And the somethings, which was really all the things, that grand-daddy wanted to talk about was Ricky Oranges (Sen. Rick Scott (R-FL)) and Peanut Butter Mike (Sen. Mike Lee (R-UT)) talking about taking away grandmamma and Uncle Bobby's Social Security checks and Medicare benefits.

Tuesday night came and surprise to everyone, Grand-daddy Joe was on time. He walked in at 9 o'clock sharp. He said hi to everybody and congratulated the youngins for moving on up in the world.

Grand-daddy Joe told Key Key he was happy that he got the Speaker role. He told Kheem (House Minority Leader Hakeem Jeffries (D-NY)) he was glad that Auntie Nance (Rep. Nancy Pelosi (D-CA)) gave her blessing so he could get the House Minority position. Grand-daddy then congratulated Uncle Mitch (Senate Minority Leader Mitch McConnell (R-KY)), Uncle Charlie, and Auntie Nance for the job they're doing in their senior roles.

After congratulating the young ones and the ol' ones for doing good for themselves, he went on to give props to the other family members for their contributions to the family's good fortunes:

"We're the only country that has emerged from any crisis that we
ever entered stronger than what we were when we got in it…COVID
no longer control our lives. And two years ago, democracy faced its
greatest threat since the Civil War. And today, the bruise our
democracy remains unbound and unbroken… We don't think anything
is beyond our capacity. Everything is a possibility."

Everybody clapped. They were like, "Yeah! Wooo! We did it!" Grand-daddy Joe told them that he was so proud of them for putting their differences aside in order to help great-grand ma and great-grand pa, over in Europe, to keep those dirty rotten Russian scoundrels off their land.

He also told them they did a good job in finding a way to get money to fix those raggedy roads and bridges and to help out their brothers and sisters in arms who were victims of all that nasty toxic waste they were exposed to during Cousin George's wars in Iraq and Afghanistan.

Again, everybody clapped, and they were like, "Yeah baby! We rock!" Grand-daddy Joe stood there, nodding his head, thinking to himself, "Mm-hmm, y'all did good. And as soon as y'all done clapping for y'all good, I'ma tell y'all what y'all didn't do good. Mm-hmm."

"Thank you, Grand-daddy Joe"!

"Thank you, Grand-daddy Joe"!

"Mm-hmm. Mm-hmm".

"We love you, Grand-daddy Joe"!

"We love you, Grand-daddy Joe"!

"Mm-hmm. Mm-hmm".

Social Security, Medicare, and the debt ceiling is why Grand-daddy Joe really wanted that family meeting because he believes the lil' hellions in the family want to stop grand-mama's and Uncle Bobby's check and pocket the money for the bills they've racked up.

When Grand-daddy Joe begin telling them about how he knows they want to leave grand-mama and Uncle Bobby out to dry, the rowdy, bratty bunch begin yelling, screaming, and booing. "

Liar" is what the queen brat, Fast tail Marjorie (Rep. Marjorie Taylor Greene (R-GA), yelled out. Grand-daddy Joe didn't do what folks in his position typically do which is to get the cane and start beating act right into the lil' rabble rousers.

Instead, Grand-daddy Joe hit the lil' rowdy bunch with facts about themselves. He told them that he wouldn't have to be so concern about grand-mama's and Uncle Bobby's Social Security checks and Medicare benefits if Ricky Oranges and Peanut Butter Mike weren't running around the house, with lil' posters, telling everybody how to "sunset" grand-mama's and Uncle Bobby's checks. "NOOOO," is what they screamed!

Seeing that he had gotten them to walk right into his trap, Grand-daddy Joe smiled and closed the gate on that talk by saying, "So folks, we all apparently agree, Social Security and Medicare are off the books, now. All right, we got unanimity."

Grand-mama and Uncle Bobby get to keep their Social Security checks and Medicare benefits.

"Thank you, Grand-daddy Joe"!

"Thank you, Grand-daddy Joe"!

"Mm-hmm. Mm-hmm".

"We love you, Grand-daddy Joe"!

"We love you, Grand-daddy Joe"!

"Mm-hmm. Mm-hmm".
More
Stories
comments powered by

Disqus