CFSEU-BC
The VPD and CFSEU-BC provided
the public with the names of Lower
Mainland gangsters they should
not approach
by Nathan'ette Burdine: May 20, 2021 Updated-May 25, 2021
Tweet
The warring Lower Mainland gangs' tit for tat, brazen attacks out in the public has worked the nerves of the
Vancouver Police Department (VPD) and the Combined Forces Special Enforcement Unit of British Columbia (CFSEU-BC)
so to the point that they've placed the also "beautiful mugs" of several gangsters on "VPD's TOP SIX" and CFSEU-BC's "Public Safety Warning" posters that alert the public to the heighten danger of being near a gangster in the public.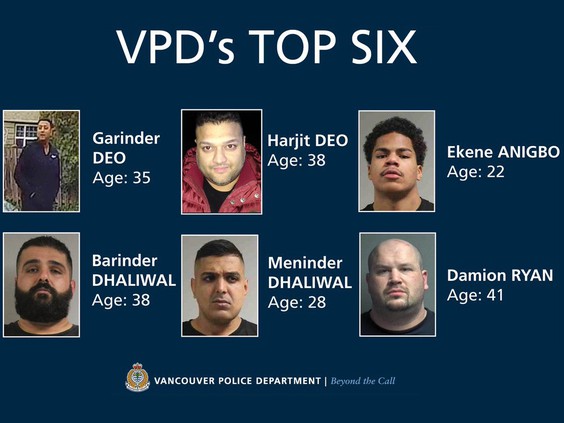 Two
Brothers Keepers gangsters, Barinder Dhaliwal and Meninder Dhaliwal
, and
Hells Angels gangster, Damion Ryan
, made the VPD's TOP SIX lists as well as the CFSEU-BC's lists of 11 gangsters the public should stay clear of so they don't end up catching a bullet.
"CFSEU-BC is advising the public to avoid any interaction with these 11 individuals, as police believe these individuals may be targets for future violence," is what the
Vancouver Sun folks quoted Vancouver Police Sgt. Brenda Winpenny
as saying during a press conference.
The CFSEU-BC's announcement comes on the heels of the deaths of United Nations gangster Karman Grewal and Brothers Keepers gangster Jaskeert Kalkat who, in less than a week a part, were both gunned down in public places.
Karman Grewal was gunned down, on Mother's Day of all days, at the Vancouver International Airport and Jaskeert Kalkat was killed outside the Cactus Club Café that is over in the Market Crossing Mall in Burnaby.
Karman Grewal's death is believed to be in retaliation for the death of Barinder Dhaliwal's and Meninder Dhaliwal's brother, Harb Dhaliwal, who was gunned down on April 17, 2021, outside the Cardero's restaurant in picturesque Coal Harbour.
According to
Royal Canadian Mounted Police (RCMP) Assistant Commissioner/head of Combined Forces Special Enforcement Unit (CFSEU) Manny Mann
, there is no one dominant factor contributing to the outbreak in gang violence.
Manny Mann told The Canadian Press folks
, whose article was posted in the Surrey Now-Leader, that the increase in gang violence can be attributed to past beefs, new partnerships between gang members, family dynamics, the drug business, disloyal members, and folks not paying their debts.
One fella, by the name of
Harjit Deo
, told the Vancouver Sun folks that it's shocking to him to see his also "beautiful mug" on VPD's TOP SIX lists because he hasn't been gangbanging and kidnapping for a while now.
Harjit Deo
said that he's been on the straight and narrow. Instead of slinging drugs and guns,
Harjit Deo
is slinging lumber for his construction business so that he can buy diapers, baby bottles, and Enfamil.
Harjit Deo
has a family, now. So he can't be doing wrong or have wrong done to him and his. It's for that reason that
he's hired a lawyer
to get his also "beautiful mug" removed from VPD's poster.
As for CFSEU-BC's top 11 lists, Harjit Deo doesn't have to pay a lawyer extra to get his also "beautiful mug" removed from there because he didn't make that lists.
The thing to be mindful of, folks, is that it doesn't matter if a person was or is involved in the thug life. All that matters is the person has connections to individuals who are about that life. And y'all know the ol' saying, "You don't retire from crime. Crime retires you." The only thing you need to do to see the evidence of that fact is to look at Harjit Deo's brother, Sukh Deo.
Sukh Deo
left the thug life and went to live with his family in Toronto where he started a trucking business.
Sukh Deo's life ended at the young age of 34
after he was gunned down in broad daylight on a Tuesday afternoon.
Therefore, the VPD is more than likely thinking that Harjit Deo could easily end up like his brother Sukh Deo, and the one thing neither the VPD or CFSEU-BC wants is for an innocent bystander to end up dead after catching bullets that are meant for a current or former gangster.
Correction-Jaskeert Kalkat was incorrectly identified as a member of the United Nations gang. Jaskeert Kalkat's gang affiliation was with the Brothers Keepers, not the United Nations, gang.
More
Stories
comments powered by

Disqus