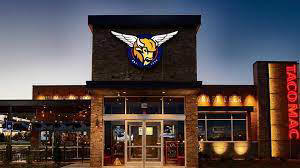 Taco Mac Sports Bar
The high crime rate in Buckhead
is why the sports bar Taco Mac
is permanently shutdown
by Nathan'ette Burdine: August 22, 2021
Tweet
The
high crime rate in one of Atlanta's wealthiest neighborhood's
, Buckhead, has led to the owners of a popular Georgia based sports bar chain, Taco Mac, throwing up their hands and closing the restaurant's doors for-e-ver.
"Since 2006, when Taco Mac Lindbergh opened, the climate of the atmosphere around Lindbergh has drastically changed. The combination of recent restaurant closures in the development, safety challenges in the parking garage, and a recent uptick of crime in Buckhead has made this location no longer safe for our team members," is what the
WSB-TV2 folks quoted a statement from the Taco Mac folks
as saying. Crime in Buckhead is a problem.
Robberies
are up by 39%. Aggravated assaults are up by 52% and carjackings are up by 40%. And the one place where a person can get robbed, beat up, and or carjacked is the parking garage.
Just imagine, you got your lips all ready for some
fried pickle chips and the Chattahoochee burger with fries and a coke
and then somebody comes up and knocks you upside your head, steals your credit card, and your ride.
You aren't going back there. You will stay home and cook your own fried pickle chips and Chattahoochee burger with fries. The folks over at Taco Mac know this.
They know that if they keep the Lindberg Center location in Buckhead open then they'll be losing more money than what they'd be getting.
Therefore, in order to prevent the hole in their pockets from widening, the Taco Mac folks have closed down the Taco Mac location in Buckhead and rerouted folks to another location with less unsavory characters.
More
Stories
comments powered by

Disqus