LSSC Screenshot YouTube
Tony Hale stopped by The Late Show
with Stephen Colbert to talk about the
Veep and Toy Story 4
by Nathan'ette Burdine: March 26, 2019
Tweet
Tony Hale stopped by
The Late Show with Stephen Colbert (LSSC)
to talk about the Veep's last season and his role as Forky in the upcoming
Toy Story 4
movie.
Tony Hale, who plays Gary Walsh on the Veep, told Stephen Colbert that he is "kind of sad" about the
Veep's
seventh season being the last because he "really likes" the folks he's been working with since 2012.
And that's important, liking your co-workers. Because if you don't like them, you tend to leave them and that job pretty early; like within the first week or two.
So, liking the folks you work with is a good thing because it makes you and those around you more productive; which explains why the
Veep
is one of the best shows on TV and has won 17 Emmy Awards.
The show airs this Sunday on HBO at 10:30PM Eastern Time. Fans will get a chance to see if three times a charm for Selina Meyer (Julia Louis-Dreyfus) who's embarking on her third go at becoming the first woman elected president.
Selina Meyer will be running against the most inept, incompetent politician in D.C., Jonah Ryan (Timothy Simons). Gary, who is the Meyer's most ardent fan and loyal supporter, will be cheering her on as he carries her bag of hand sanitizers, tampons, deodorant, floss, toothbrush, toothpaste, and mouth wash on the campaign trail.
Hale, though, didn't let it slip out about whether Ryan would be the curve ball that strikes Meyer out of future presidential races for good.
But knowing Hale's character, Gary, he's going to do everything in his power to place a fork in Ryan's hope of making history by becoming the youngest and dumbest president this nation has ever had.
Speaking of forks, Hale's character Forky in the upcoming
Toy Story 4
movie, which is coming out on June 21, 2019, is po' lil' ol' rascal who looks like he can use a lot of love.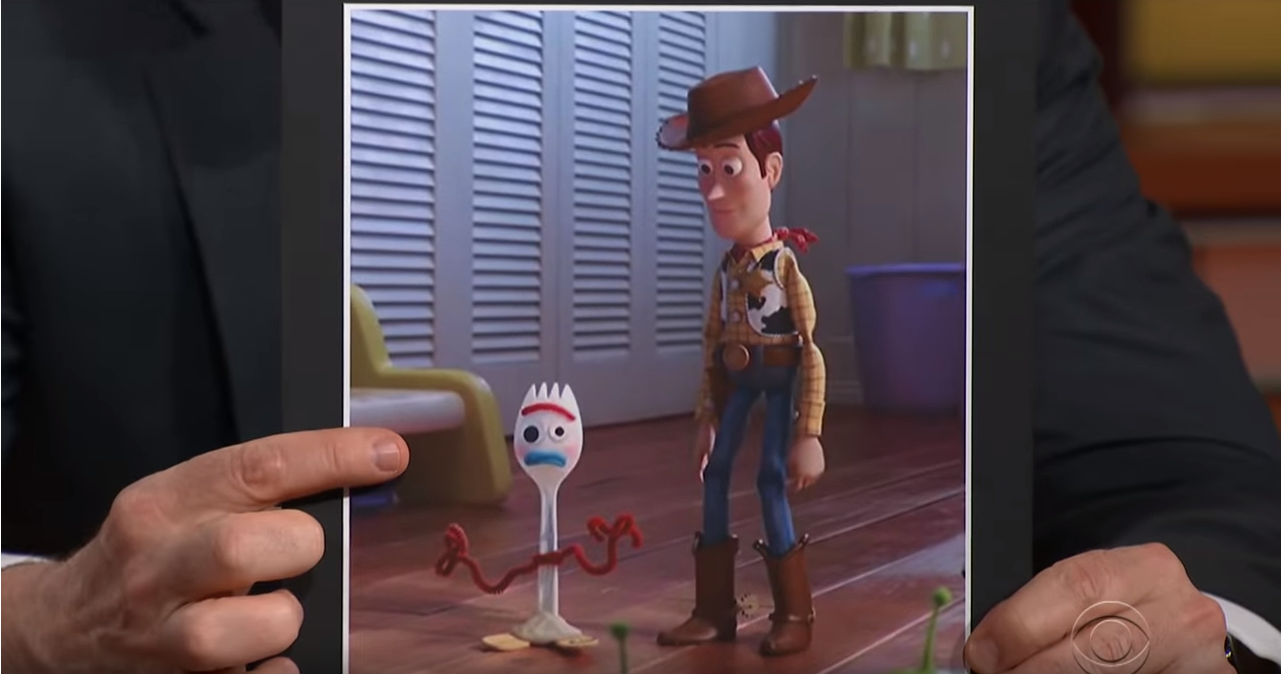 LSSC Screenshot YouTube
Forky doesn't even look like a fork. It looks like something that has been melted down to something.
Forky has a red horizontal line on his forehead. His right eye is bigger than the left eye. Po' ol' Forky's arms and hands are all red, mangled, and scrunched up. His lil' forky feet are yellow. Po' ol' Forky there is just a messed up fella on the outside.
Here's what Hale had to say about po' ol' Forky there, "Isn't it cool? It's the first toy that the little girl made and he's having a bit of an existential crisis."
Hale says the "existential crisis" that poor ol' Forky is going through is due to him not really wanting to be a toy. Forky wants to be a member of the trash pile.
Somewhere along the way, Forky is convinced by his friends around him that he's worth more than the mangled pile of junk he looks like. Hale told Colbert, "He learns there's a lot of value and he's love."
God bless po' ol' Forky there.
comments powered by

Disqus