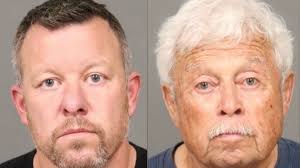 Left-Paul Flores Right-Ruben Flores
Traces of human blood is why
investigators believe that Paul
Flores and Rueben Flores are
involved in Kristen Smart's
disappearance
by Nathan'ette Burdine: July 19, 2021
Tweet
Based on the evidence in the
court documents
that San Luis Obispo Superior Court Judge Craig van Rooyen released last Wednesday, the traces of human blood is one of the reasons why Paul Flores and his daddy Ruben Flores were arrested and charged in the murder and disappearance of Kristen Smart.
The
San Luis Obispo County District Attorney's Office
employed the services of the Natural Investigations Company in order to assist with the search of Ruben Flores' property.
During the extensive search of the property back in March 2021, one of the
Natural Investigations Company's archaeologists
found evidence of somebody or somebodies trying to hide someone.
More specifically, the
archaeologist
found what the San Luis Obispo Tribune folks say was some "major disturbance" to the dirt under the deck and evidence of chemicals that a murderer uses to hide the fact that he has murdered a living body.
It also doesn't help the
Flores' case
that two objective witnesses, a tenant and a neighbor, saw evidence of something not being right.
The tenant, David Stone, lived in a room in Ruben Flores' house for ten years. During that time,
David Stone
said that Ruben Flores told him and a plumber, who came to fix a leak, not to venture down into that area where he, Ruben Flores, kept a padlock on the door.
David Stone needed himself a home so he didn't question anything, and the plumber more than likely didn't feel like getting into it with an old man about his secret padlocked door so he went on his way.
Welp, after the police showed up and begin questioning everybody about whether they happened to see Kristen Smart's dead body under Ruben Flores' deck, David Stone decided he better look at that padlocked door as something more than just Ruben Flores being a stereotypical curmudgeon ol' man.
David Stone went ahead and told his story to the investigators who ended up putting it in the report. No word yet on whether anyone has talked to the plumber.
The
investigators
did manage to catch up with one of Ruben Flores' neighbors who told them that she saw Ruben Flores and his baby's mama, Susan Flores, and her new man, Mike McConville, backing up a trailer to the deck area back in February 2020.
And what that says is the police got word from somebody that led them to let the Flores' know that they know. And the police knowing scared the Flores into moving what is increasingly looking like Kristen Smart's dead body in a trailer.
Keep in mind, now, the police haven't said any of this. But, we all know how these things go. And the way it is going is that somebody was knowing a little too much information, for the Flores' liking, about the Kristen Smart Case.
Therefore, Ruben Flores and Paul Flores' mama, Susan Flores, and her man Mike McConville had to do something to ease all of their nerves. They all, though, will say they know nothing about nothing.
However, the funk of their crime stinks to the high heavens so to the point that the gods have convened with Hades to prepare a place for them.
More
Stories
comments powered by

Disqus