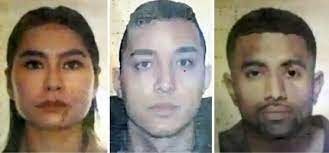 Jessica S. Ceara Robert Dinh and Thomas Cherukara
Two Canadian gangsters were
reportedly killed over an unpaid
debt to their gangster lender
by Nathan'ette Burdine: May 7, 2022
Tweet
Friday, January 21, 2022, is when a
gangster lender
sent a hitman to help Canadian gangsters Robert Dinh and Thomas Cherukara to meet their end at the upscale Mexican resort, Hotel Xcaret, in Riviera Maya, Mexico.
According to the
Vancouver Sun
folks, Robert Dinh and Thomas Cherukara got on the hitman's hit list because they fail to pay back their gangster lender the money that he or she loan them for their drug and gun trafficking businesses.
A question the Mexican and Canadian authorities must answer is, "Why did the two not pay back their gangster lender?"
It's not like they were broke.
Robert Dinh
was an associate of the Vietnamese crime families and he was rumored to have a Ph.D. in hiding money; which is why the Royal Canadian Mounted Police (RCMP) was investigating him.
Thomas Cherukara's
drug selling, weapons dealing, robbing, and destroying property businesses are all the ways he got all of his green that caught the police's attention.
Knowing that Robert Dinh and Thomas Cherukara aren't Rob and Tom from across the tracks, the gangster lender probably set there and said to himself or herself, "That Thomas muthafucka is hiding the money that he and that sticky finger Robbing Rob borrowed from me. I told them once. I ain't gonna tell them twice. Send the hitman to put those two muthafuckas on ice!"
Folks, don't be shock about it! Everybody knows that gangsters don't do their lending the way the banks do.
There's no customer service! There's no mail! There's no payment plan! There're no courts! No lawyers! Heck, they won't even text you, email you, or tweet to tell you that you owe them money! There're just face to face meetings at Al's Steakhouse reminding the poor saps about the consequences of delinquency.
Some kind of way or another, the gangster lender got word that the two would be down in Mexico, at the resort, in Riviera Maya where folks with money go to hang out! And when I say "folks with money" I mean folks who can afford, through Booking dot com, $840 a night, with a discount, and $903 a night without the discount.
Hotel Xcaret is a Five Star hotel
that is ranked number 7 on the U.S. News Best Hotels in Maya Riviera and The Yucatan list and that has four Critics Awards (Conde Nest Readers' Choice List 2021, Forbes Travel Guide Four Star Awards 2021, TripAdvisor Travelers' Choice Best of the Best Awards 2021, and AAA/CAA Five Diamond Awards 2021).
Hotel Xcaret
also has free WiFi, which will easily get any lodging place one star from any guests. So yeah, Hotel Xcaret is a fancy place.
In order to not blow his cover at the Five Star hotel, the hitman went undercover as a gym member. "Powder-blue or grey track suit" is what the
Vancouver Sun
folks say the hitman wore to the killing.
The
hitman
walked up, all casual like, in his "powder-blue or grey track suit" to Robert Dinh and Thomas Cherukara and then chatted them up for a minute. After that minute, an unfamiliar sound and smell fill the air of the ritzy Hotel Xcaret!
BOOM! BOOM! BOOM! Five pieces of lead is what the "powder-blue or grey track suit" wearing hitman loaded into the Canadian gangsters. They hit the ground…dead! Screams could be heard everywhere! SHOTS! SHOTs! GUNSHOTS! The hitman, who had two buddies riding shotgun (no pun intended) with him, took off up out of there like grease fire!
The
Mexican police
came and found Robert Dinh and Thomas Cherukara dead on the ground. They found Thomas Cherukara's gal pal,
Jessica Sahadee Ceara
, shot and alive. And the police found the guests madder than a gorilla looking at and smelling an orangutan's shit in his domain.
The guests were like, "I didn't come down here just to be an extra in Once Upon A Time in Mexico Part II!" Folks, something y'all have to understand is that Riviera Maya isn't Cancun.
Riviera Maya is not a place where the humans go wild. Heck, even the wild doesn't go wild in Riviera Maya. Riviera Maya is a respectable place where the super wealthy go in order to enjoy their money.
Gangsters going gangster is not something the good, decent, upstanding, rich folks are use to while they're vacationing at the Five Star hotel, Hotel Xcaret, in Riviera Maya, Mexico.
Needless to say, the police had to hurry up and tell folks something about what was going on because like everybody else they didn't know what was going on.
The words that the Vancouver Sun folks say came out of the police mouth was that the killing was all over two guests not knowing how to properly solve their problems.
Luckily for the
police
, they managed to grab the tail of those three donkeys and throw them into a cage. Oscar Ivan N., is the name of one of the not so good "human beings."
At this point, all the Canadian and Mexican police and prosecutors have to do is arrest the gangster who ordered the hit and then figure out why Robert Dinh and Thomas Cherukara decided not to pay their gangster lender his or her money?!
Whenever the police and prosecutor gets the answer to that question, they'll be able to make their case to a judge and or jury about why the gangster lender should serve nothing but time for cutting short the lifelines of his or her fellow gangster colleagues, Robert Dinh and Thomas Cherukara.
More
Stories
comments powered by

Disqus