Ukrainian Soldiers
Ukraine ran Russia out of several
cities within the four regions that
Russia recently annexed
by Nathan'ette Burdine: October 4, 2022
Tweet
Just look at them go!
"Drone footage of Russian soldiers retreating in the woods in the direction of Soledar, Donetsk Oblast." -- via https://t.co/X71paGlkWA pic.twitter.com/KwnDvXXEfg

— Crab Man (@crabcrawler1) September 30, 2022
Those scary cats y'all see running with their tails tucked firmly in between their legs are Russian soldiers.
Ever since the Russians stole, via sham elections, the Donetsk and Kherson and Luhansk and Zaporizhzhia regions, the Ukrainians have increased the heat on the whuppin' stick from medium to hell fire and brimstone.
The hell fire and brimstone whuppin' stick is none other than the High Mobility Artillery Rocket Systems (HIMARS) which has helped the
Ukrainians beat the Russians out of several cities
within the Donetsk, Kherson, Luhansk, and Zaporizhzhia regions.
The good whuppin occurred a little over a week after
Russia began its "shotgun" elections in the regions
. There were
98% of folks in the Donetsk and Luhansk regions voted
to leave "Daddy Kraine" for "Mother Russia's", with 93% of folks in the region of Zaporizhzhia and 87% of the folks in the region of Kherson voting the same way.
Hm, Putin's soldiers are using shotguns to force the Ukrainians to vote the way they want, while the Ukrainians are using shotguns to force the Russian soldiers on the run.
Some of the
cities the Ukrainian soldiers
got the Russian soldiers on the run from are Lyman, Arkhanhelske, Myroliubivka, and President Volodymyr Zelensky's hometown of Kryvyi Rih.
Lyman
is the city that due to it being an important transportation and communication hub for the Russian military losing the city will put a kink in Russia's plans to steal all of Ukraine's land.
And as y'all can see from the
picture
down there with everything and one from food to tanks to the dead left behind, the Russians aren't doing anything to take the kinks out of their plans to expand all over Ukraine.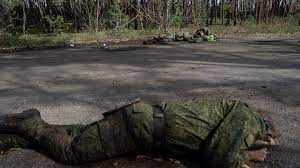 For his part, Putin thinks the Russian military is doing really good. The war has been going on since February and Russian soldiers have been dying for "Mother Russia." "War + Death=Life Somewhere! Eh!", is what Putin be like. Nodding their heads in agreement, the lower and upper houses of the Russian Parliament voted to certify the votes for annexing the Donetsk, Kherson, Luhansk, and Zaporizhzhia regions.
Russian soldiers don't see it that way because unlike Russia President Vladimir Putin and the politicians the Russian soldiers don't have the luxury of burying their heads in the sand.
The tampon soaked bullet wounds and the stench of death won't let Russian soldiers ignore the reality that "Mother Russia" has them dying for nothing.
And if the Russian soldiers have to haul tail it out of there faster than a caught dog in the barbeque sauce, then so be it because their love for "Mother Russia" isn't enough for them to continue taking that good butt whuppin' from Daddy Kraine.
More
Stories
comments powered by

Disqus